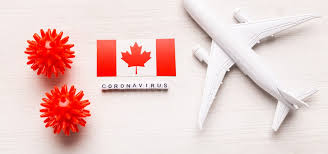 From September 07, 09, based on the improved Covid situation in Canada, the government has planned to open the Canadian border to passengers from countries who have been vaccinated with 2021 doses of the vaccine 2 days before entering Canada and who meet specific requirements.
In addition, fully vaccinated passengers are required to comply with the following:
Provide full information related to Covid including hard copy of vaccination before departure to Canada via ArriveCan application
Positive Covid test result before entry
No covid related symptoms on arrival
When required, present all documents related to vaccination (both English or French translations)
All passengers must adhere to the quarantine plan if the quarantine exemption condition is not met.
All passengers are required to comply with public health measures such as monitoring for Covid-19 symptoms, wearing a mask in public and bringing a copy of the certificate of vaccination and test results - as well as recording any close contacts and places visited in the 14 days after entry. As for air transport, passengers continue to wear masks at the airport and on flights to and from and within Canada regardless of the circumstances even if you have been vaccinated.
Changes since 9/8
Visitors to Canada for non-essential travel or discretionary reasons will not be allowed to enter Canada, cancel flights and receive fines. So make sure your purpose of coming to Canada is urgent and legitimate.
As of August 9, Canada will drop the requirement for the Canadian Air Transport Security Administration (CATSA) to check the temperature of passengers before boarding of all domestic and international flights. economic. This change will make the flight process more time-saving and simplified while still ensuring public health measures such as wearing a mask in the airport and on the plane.
Quarantine requirement: waive 3 nights of government-approved hotel isolation for all passengers arriving in Canada as of August 9. For passengers who have not been vaccinated, take samples for testing on day 8 and day 1 after arriving in Canada and perform a mandatory 8-day quarantine
Nguồn: https://www.canada.ca/en/public-health/news/2021/07/easing-border-measures-for-fully-vaccinated-travellers-entering-canada—permitting-discretionary-travel-for-citizens-and-permanent-residents-of-th.html?fbclid=IwAR1FHNSVefFHPmCWdJsn4nzdu1wMMsQzsXL_hnea2Pkm2DbRUzCI82tVM5U
Related news