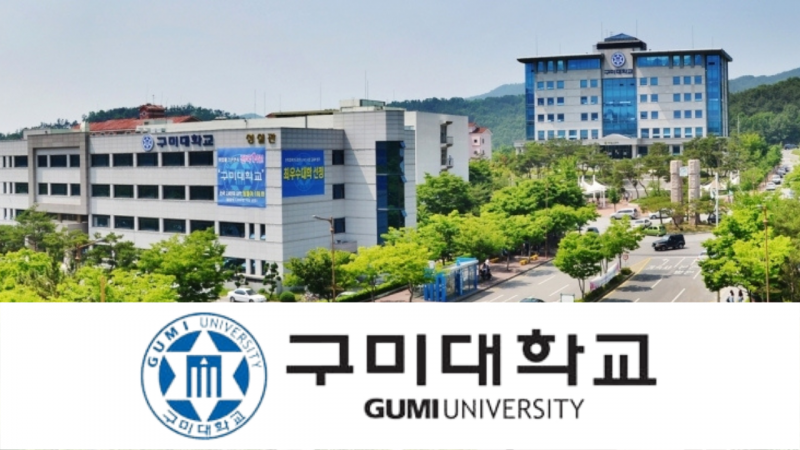 Located in one of the most developed industrial cities in Korea, Gumi University promises to bring open job opportunities for international students after completing their studies at this school.
1. Information about Gumi University
School's name: Gumi University
Korean name:
Type: private
Year of establishment: 1992
Address: 37 Yaeun-ro, Bugok-dong, Gumi-si, Gyeongsangbuk-do, South Korea
Gumi University Also known as Gumi Vocational University. The school was established in 1992 in Gumi city, Keingsangbook province, 190km from Seoul (about 2 hours by bullet train).
Despite its relatively young age, with the continuous development efforts of the faculty and students, Gumi University has gradually affirmed its position in the education of the country of Kim Chi. In particular, the school is a place to train talents for large corporations, including Samsung Group.
Gumi University is honored to receive the title of University according to WWC world standards. During the 5-year period (2010 - 2014), the university led the rate of graduates having jobs, even getting jobs in big companies. In addition, Gumi University is also recognized as a partner of the Korean E-commerce Resource Center (ECRC) along with many other impressive achievements.
2. Outstanding advantages of Gumi University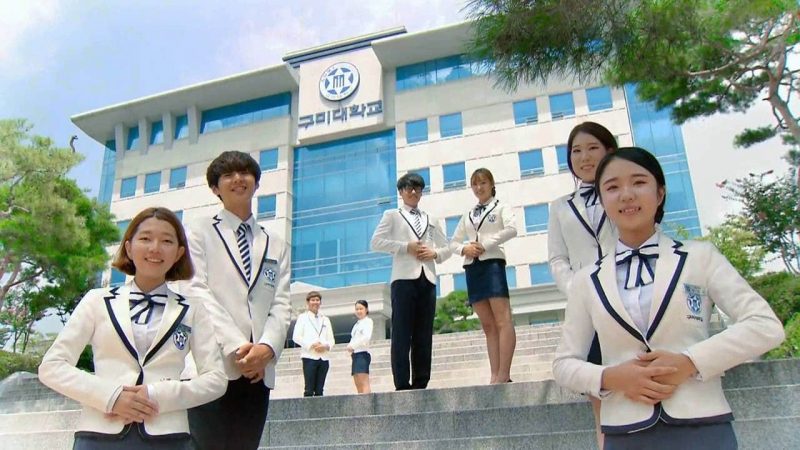 2.1. Modern infrastructure
The system of facilities at Gumi University is perfected and constantly improved to serve the teaching and learning process. In particular, students also have the opportunity to practice at famous companies and corporations. This is an experience not everyone has, a great opportunity that every student dreams of.
In addition, the school has a modern dormitory system built in recent years. Each room is enough for 4 people to stay, ensuring the most private and comfortable space. In addition, the campus also has a cafeteria to provide convenient services for students.
2.2. Exciting extra-curricular program
In addition to building a good quality of culture and education, the school also promotes extra-curricular activities. Create a dynamic, friendly learning environment that promotes the creativity of students and faculty. From here, it stimulates international students to discover the beauty of human culture in the land of Kim Chi.
2.3. Top teaching staff
Gumi University owns a team of well-trained, non-stop creative, dedicated and professional professors and lecturers. Always ready to answer and guide students enthusiastically, updating new trends daily.
2.4. Job opportunities to increase income
When applying to study in Korea, most people want to find a job to increase their income to pay for tuition and living expenses. Gumi University professors always create the best conditions for students by directly instructing and recommending work to them. This is an advantage that cannot be compared anywhere else.
2.5. Great job opportunity
After graduating from the course, you will have the opportunity to continue your studies in the school. If you graduate with a bachelor's degree, the school will offer you jobs. Not only in large companies, students also have many other career options.
2.6. Attractive scholarship program
To encourage students to study hard and reduce their financial burden, Gumi University has many scholarship programs to support students, especially international students.
3. Training program at Gumi University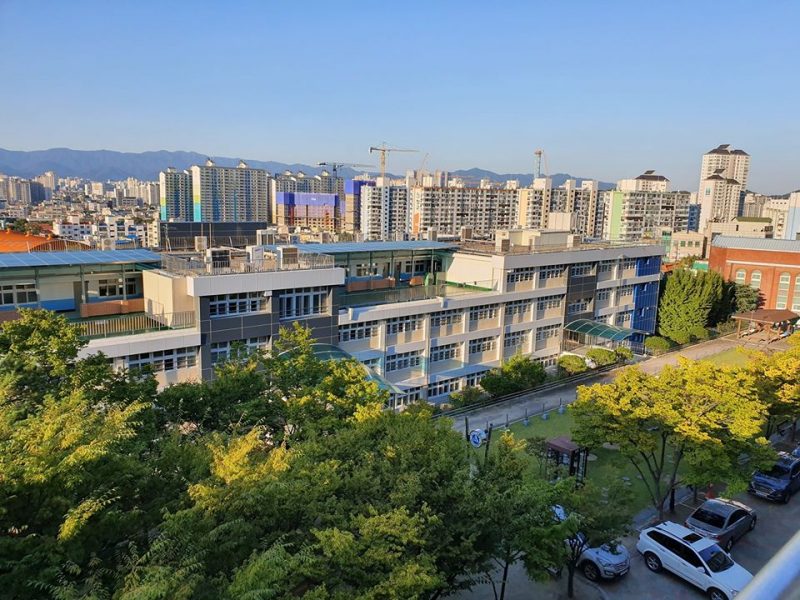 3.1. Korean language program
The Korean program at Gumi University offers a 6-level training program from basic to advanced for international students. Students learn all 4 skills of listening, speaking, reading and writing, with special emphasis on communication skills, helping students become more confident and quickly familiarize themselves with life and the learning environment in Korea. Country.
A year of Korean language study at Gumi University is divided into 4 semesters (spring, summer, autumn, winter), each semester lasts about 10 weeks, each week has 5 days of class (Monday - Friday). Besides, Gumi University also provides TOPIK exam preparation classes for students in need.
Every semester, there are cultural classes such as: Taekwondo, calligraphy, writing practice, etc. In particular, students will have the opportunity to participate in Korean cultural experiences through historical sites sightseeing programs. , museums or participating in cooking contests, sports, music, etc.
Besides the tuition fee of 2.200.000 KRW / 6 months, students also have to pay other fees such as: registration fee: 100.000 KRW; dormitory: 700.000 KRW; textbooks: 360.000 KRW; Insurance: 200.000 KRW / year (Total invoice: 3.560.000 KRW).
3.2. Undergraduate training program at Gumi University
Gumi University offers a wide variety of majors that meet the needs of society. Undergraduate tuition at Gumi University is about 4.000.000 KRW/term (excluding other expenses).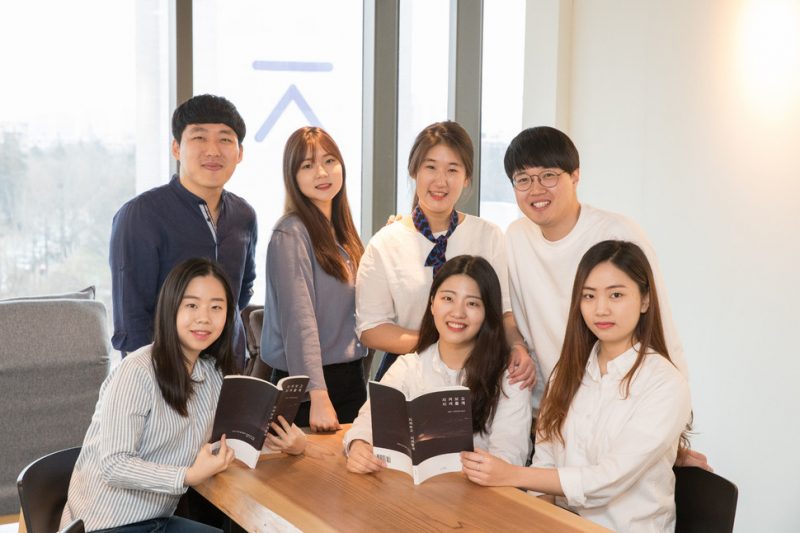 Faculty of Computer and Electronic Communication Engineering
Electronic Communication Engineering
Computer engineering
Electronic engineering – drones
Information and communication.
Automotive engineering faculty
Mechanical
Automotive machinery
Smart Car (smart car)
CAD / CAM
Department of Military
Military construction engineering
Military environment chemistry
Military Medical First Aid
Faculty of Aviation
Helicopter maintenance
Aviation maintenance
Aviation electronics maintenance.
Faculty of Medicine and Nursing
Nursing
Dental hygiene
Occupational therapy
Physical therapy
Health and Health Administration
Voice therapy.
Faculty of Health and Beauty
Hairstyling and nail art
Beauty and Fine Arts
Sports health management.
Faculty of Tourism, Hotel and Aviation Services
Hotel and tourism
Airline service
Restaurant Hotel
Baker and Barista.
Other majors
Electric power
Fire protection
Intuitive game content
Landscape architecture
Smart management
Welfare
Tax accounting
Preschool education.
4. Admission requirements at Gumi University
4.1. Conditions for admission to the Korean language system at Gumi University
Education level: graduated from high school with a GPA of 6.5 or higher
Does not require TOPIK
4.2. Conditions for admission to the university system
Education level: high school graduate or equivalent program
Minimum TOPIK 3
5. Scholarship Program at Gumi University
Vocational Study Abroad Scholarship (worth 1.000.000 KRW): for international students enrolled in college programs with insurance (not applicable to the faculties: Dental Hygiene, Therapeutic Sciences, Military, Aviation, Nursing).
Industrial Internship Scholarship (worth: KRW 2.000.000): for international students with occupational health insurance for more than 9 months (not applicable to the faculties: Preschool Education, Oral Hygiene, Therapeutic Faculty, Military, Aviation, Nursing).
Students graduating from gifted high schools (30% tuition fee waiver per semester): for international students who have graduated from a specialized high school and have participated in health insurance for at least 3 consecutive years (not applicable to the faculties: Dental Hygiene, Therapeutic Faculty, Military, etc.) Aviation, Nursing).
Undergraduate Scholarship (worth: 1.000.000 KRW): students who already have a university degree (or higher), do not apply to the faculties: Oral Hygiene, Therapeutic Faculty, Military, Aviation, Nursing.
Family Scholarship: If the family has 2 or more members studying at the school, the next member will receive a reduced tuition fee according to the regulations of the school.
Referral Scholarship: Students who are recommended by professors of the school will receive scholarships according to regulations.
6. Dormitory system at Gumi University
Currently, Gumi University owns 4 dormitories on campus and 1 apartment complex off campus. Each room is fully equipped with a wardrobe, desk, wifi system... Besides, students can enjoy common facilities such as kitchen, gym, self-study room, common room, room. dining room, laundry room, computer room,…
Dormitory Donghwa, Nadong, Dadong (located in the school): 729.000 / month / person (room for 4 people), 909.000 / month / person (double room).
Radong Dormitory (located in the school): 839.000 / month / person (room for 4 people), 1.019.000 / month / person (double room).
School apartment buildings: 1.150.000/month/person (single room), 1.087.000/month/person (double room) and 1.034.000/month/person (3-person room).
7. Exciting activities await you when studying abroad in Gyeongsangbuk-do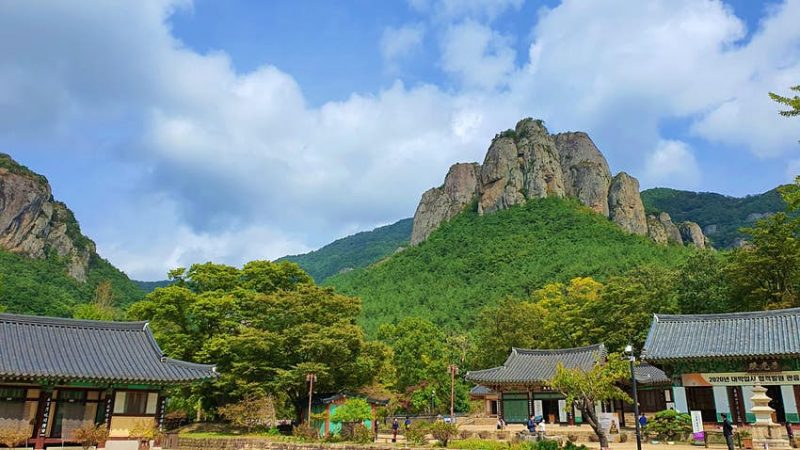 Surrounded mainly by the Taebaek Mountains to the east and the Sobaek Mountains to the west, Gyeongsangbuk-do is South Korea's hottest province in summer with average temperatures hovering around 95°F (35°C). Gyeongsangbuk-do split off to become a province in 1896 when Gyeongsang, henceforth, became the largest province in Korea.
Gyeongsangbuk-do (sometimes abbreviated as Gyeongbuk) was once home to the ancient Gaya culture. The province is known as the birthplace of Confucian culture and home to many Confucian academies. Gyeongsangbuk-do is nationally known for its unwavering loyalty to traditional Korean culture.
Small localities often organize festivals based on local agricultural crops (such as mushrooms and ginseng). As for the mountains in the area, Juwangsan in particular, is a great place to enjoy the beauty of the country (without the crowds of tourists, by frequenting the more famous mountains, for example. like Seoraksan).
The province consists of two national parks: Juwangsan and Gyeongju, which include Shilla historical sites around the city of Gyeongju. Gyeongsangbuk-do also has several other national and provincial parks within its borders.
Most of the east coast of Gyeongsangbuk-do is significantly eroded, with the exception of Yeonghil Bay in Pohang, which has the best harbor in the area. The coastal driveway features a varied landscape with long stretches of sand, craggy rocks, lowlands and isolated fishing villages.
It will be one of the most beautiful areas of the peninsula, except for some barbed wire fences installed between marine observatories located on coastal lookout points.
Despite having an east coast, Gyeongbuk is oriented mainly inland, focusing mainly on the agriculture and land of the region. Gyeongsangbuk-do's only sizable island is Ulleung-do, about 3 hours by boat from the mainland.
Hopefully, through the above article, readers can understand more about Gumi University so that they can have more bases to consider when they want to study at Gumi University in particular and study in Korea in general.
Related fields