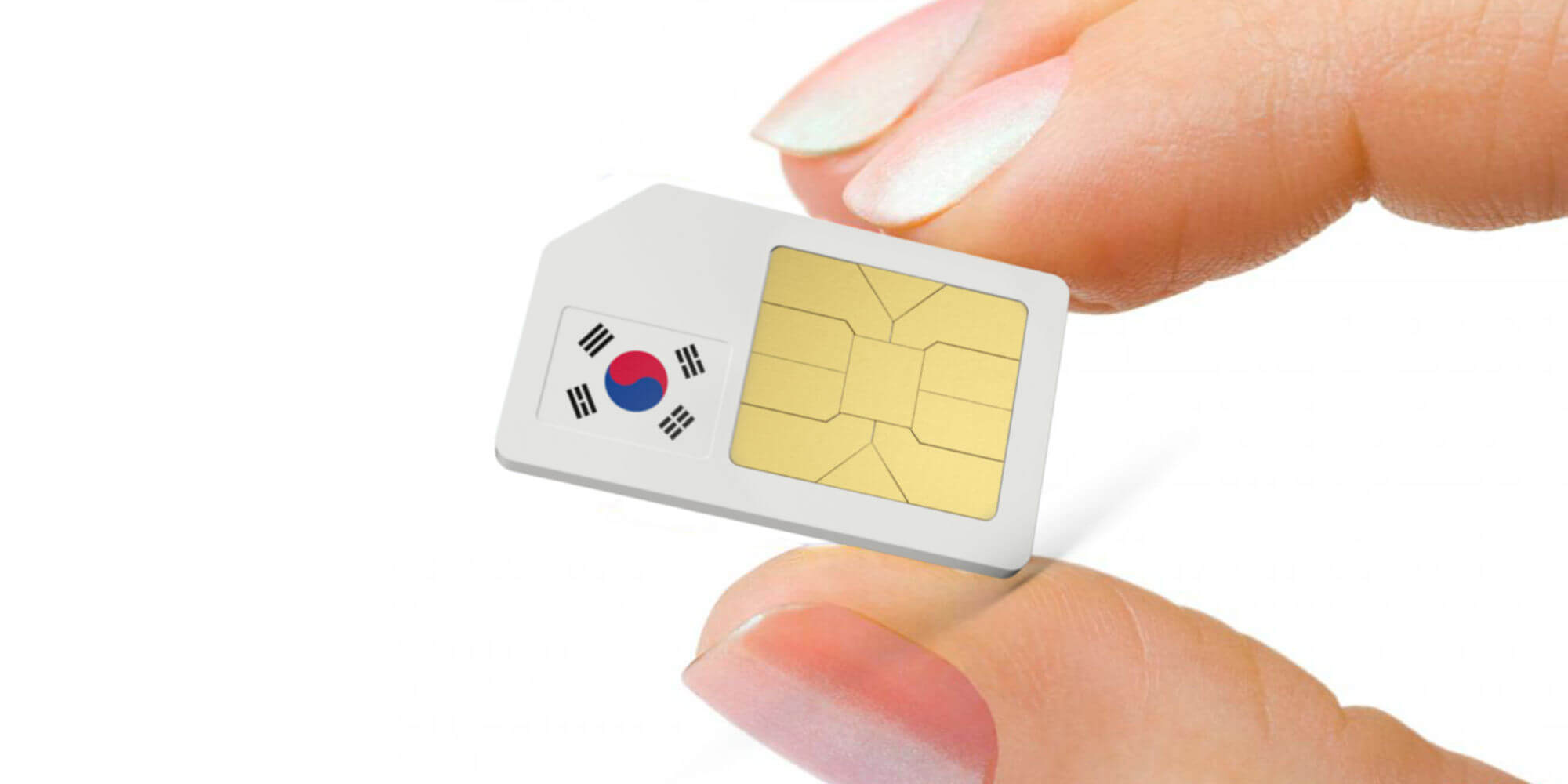 When we arrived in Korea, our group suddenly realized that having a Korean SIM is a huge advantage. We had to download a local navigation app – such as Naver – as Google Maps is pretty much useless here. Besides, we also use a lot of other Korean apps. Thanks to that, we know where to eat, can translate Korean texts and interact with locals more easily.
Contact to buy Sim 0962.328.328
Knowing that, in this article, Study abroad Netviet We will cover every important detail about the Korean SIM that you need to know as well as the aspects that you need to keep in mind when choosing to buy a SIM. Besides, we also list Korean SIM cards worth buying.
Why should you buy a prepaid Korean SIM?
It's actually pretty easy to travel on your own, especially if you know how to take advantage of your smartphone during your trip. Here, people develop a lot of useful applications for tourists. So we used the mobile connection in Korea a lot.
Here is a list of the apps we used the most during our Korea trip:
XE currency: provides real-time conversion rate between Vietnam Dong and Korean Won.
Kakao Metro: an indispensable application when taking the subway in Seoul, Busan, Daegu, Gwangju and Daejon because the subway network in these places is very dense.
Kakao T: allows you to call and pay for taxis similar to Grab. You can also rent electric bikes with this app.
Mangoplate: information about restaurants accompanying the reviews.
Papago: an application that instantly and accurately translates from Korean to 14 other languages, including Vietnamese. This application can work offline. The quality of its translations is much better than that of Google Translate.
Emergency Ready: provided by the Department of Home Affairs and Safety. The application contains information about shelters, police stations and fire stations. The Korean government will share information about natural disasters here.
Visit Korea: provided by the Korea Tourism Organization. The application contains useful information such as opening hours, prices, etc. about many attractions here.
If you intend to go to Lotte World and Everland, you can use the app provided by them to check waiting times at attractions.
As you can see, you will need to use the network quite a bit here. However, roaming costs are very high. Meanwhile, Korean prepaid SIM cards are relatively cheap. This makes the Korean SIM a good investment even if you don't plan to use the mobile connection often.
Besides, Korea is considered to have the best 4G network quality in the world. It will be a pity if you do not try the 4G experience when visiting this country.
But aren't there as many free Wi-Fi hotspots in Korea as in Vietnam? Yes. But you shouldn't depend on them too much. Read on to find out why.
How is the free Wi-Fi in Korea? Is that good?
You can find over 500.000 public Wi-Fi hotspots in Seoul alone. With this number, you might think that buying a Korean SIM is unnecessary. But that is a complete mistake.
First, it's a hassle to always be connected to Wi-Fi every time you move locations. Not stopping there, some signs with Wi-Fi login information are only written in Korean, making things even more confusing. And yet, if you finally understand the information of that sign, you will sometimes come across a message that they only accept Korean phone numbers.
We had to experience the above pain to know the true value of the Korean SIM and pocket Wi-Fi router. Both are very cheap, good value for money to get out of this scenario.
It's true that there are free Wi-Fi hotspots you can use, but don't let their huge number blind you.
The best Korean SIM cards worth buying today
In this section, we'll share our top two picks.
If you intend to stay in Korea for a short period of time
The Korean SIM KT Olleh provided by Klook is the best choice for those who plan to stay here for 30 days or less and just need a mobile connection. This SIM offers unlimited data and has no fair use policy.
There is also an option that allows you to make voice calls and text messages. But you will have to pay first. For 11.000KRW, you get 42 minutes of voice calls.
If you plan to stay in Korea for a long time
Most Korean SIM cards for travelers are only valid for up to 30 days. If you plan to stay longer, you will have to buy more than one SIM. This is not something that every Korean supplier allows. Or you can buy this Korean SIM from KT Olleh with a maximum validity of 90 days.
This Korean SIM also has no data limit. But you will only have 15GB of high-speed data. If you use up these 15GB before the end of the month, you will receive an additional 2GB/day until the end of the month. After one month of use, you can renew the use. Each is equivalent to an additional month. You can only renew up to two times. Besides, you can make 100 minutes of voice calls and 100 free text messages that month.
Should you buy a portable Wi-Fi hotspot?
Reasons you should buy a portable Wi-Fi router
The main reason to buy a portable Wi-Fi hotspot is that you don't need to swap SIMs or change any settings on your phone. This is great if you are less tech-savvy. Another advantage is that friends, family, partners or anyone with your phone number can still contact you as usual. If you need to chat with people you know through traditional calls or SMS, this is probably the best option.
Another advantage is that you can share the network connection. Some Wi-Fi routers can support up to 10 devices connected at the same time. While most smartphones these days can broadcast Wi-Fi, this feature is extremely battery draining.
The main downside is that you need to pay attention to one more thing to carry with you. You also need to remember to charge it daily if you want to use it often.
Reasons you should not buy a portable Wi-Fi router
The moment you insert a Korean SIM into your device, people know that your phone number can no longer contact you. Some people like this. They're on vacation, after all.
If you don't mind disrupting communications during your vacation, you don't need to buy a portable Wi-Fi hotspot, especially if you're traveling alone or don't have to share your cellular connection with anyone. . Of course, people can still contact you through platforms like Messenger, Zalo, etc.
Things you need to check before buying a Korean SIM
What type of SIM does your phone support?
Over the years, the size of SIM cards has decreased, giving birth to three different types of SIMs: Regular SIM, Micro SIM and Nano SIM.
Most Korean SIMs for travelers support various sizes, i.e. they can be adjusted to fit the required size.
Nothing will happen if you buy a Korean SIM that supports multiple sizes. But if not, you should check which SIM type your phone supports.
Will your phone or portable Wi-Fi router work in Korea?
Your phone or portable Wi-Fi router will not work if it is not compatible with Korea's national network infrastructure. Below are the network frequencies used by SK Telecom and KT Olleh – the two main Korean travel SIM providers:
4G LTE bands: Band 1(2100MHz), Band 3(1800MHz), Band 5(850MHz), Band 8(900MHz)
3G band: HSDPA 2100MHz/HSDPA+
Please make sure your phone supports the above bands.
Does that Korean SIM support voice calling and texting?
So far, the Korean SIM that only supports cellular connections is the most popular choice among travel SIM cards. For most people, this is the type of SIM they need. Although you cannot make calls or send messages, you can still use platforms such as Messenger, Skype, Zalo, Whatsapp, etc.
If you want a local phone number, you need to buy a Korean SIM that supports voice calling and texting.
How long is the validity period of that Korean SIM?
All prepaid Korean SIM cards for tourists can only be used for a certain period of time. Time is counted from the day you activate the SIM. And in most cases, you can't renew.
Is the mobile connection quality good?
Many Korean SIM cards for travelers offer unlimited mobile data. However, fair use policies vary widely between providers. Fair usage policy i.e. the connection speed will be squeezed after a certain amount of data has been used for a period of time, usually a day.
Some Korean SIM providers will limit the speed after you have used 2-3GB. In our opinion, this is an acceptable number. With 3GB, you can stream about 600 songs online or watch a standard definition video for 6 hours.
However, there is a Korean SIM provider that only offers 500MB of high speed per day. This is a sufficient level if you only connect to the network occasionally. But you will quickly reach the limit if you regularly play audio or watch videos.
When the limit is reached, the connection speed will be reduced to the equivalent of 3G or 2G, which means you can still view web pages but the page load speed will be slow.
Where do you get Korean SIM?
Some Korean SIM cards can be delivered to your door. But most require airport pick up.
If the Korean SIM you purchased needs to be received at the airport, please note the following:
Note the location and opening hours. Remember that your flight may be delayed!
Maybe the order page includes a small map showing where to pick up the SIM. You should store it on your phone because there will be no network until you get the SIM.
Related news