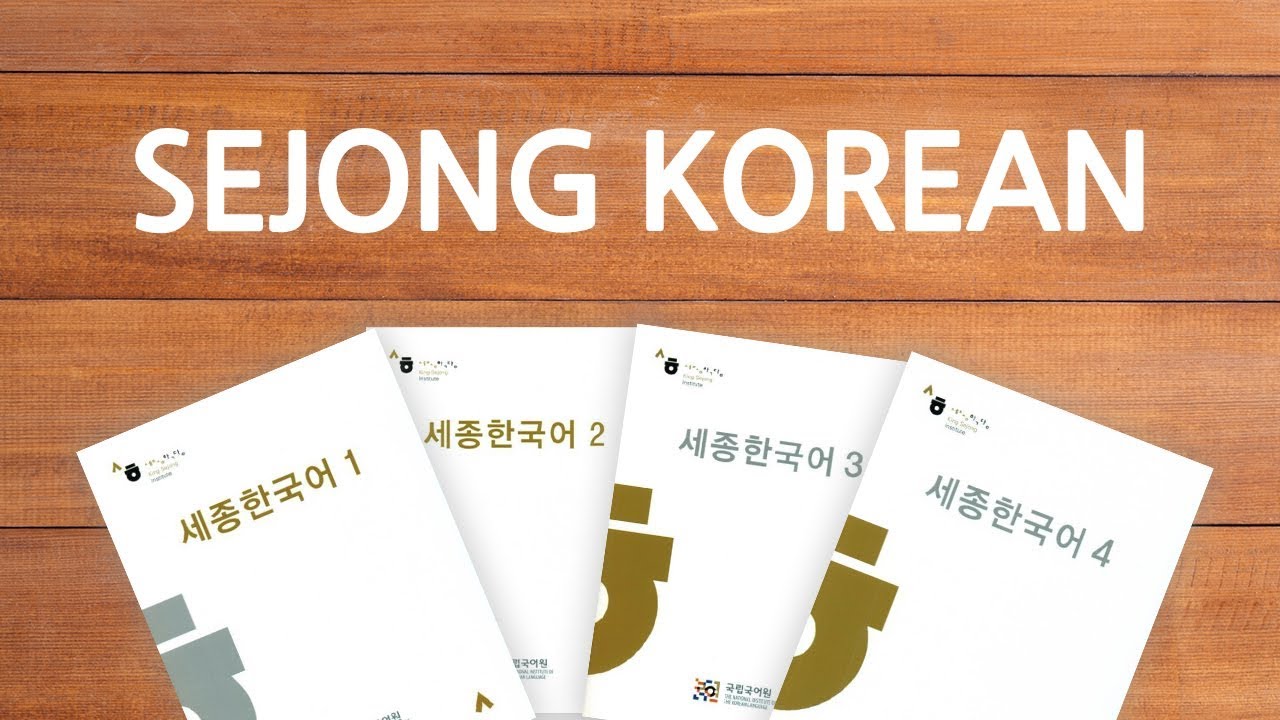 Sejong syllabus is one of the top 4 quality textbooks in Korea. Sejong curriculum is used in teaching Korean to international students at many Korean universities. Not only that, Sejong curriculum is also applied to teach Korean language at universities in Vietnam. Let's find out the attraction of Sejong curriculum!
Contact to buy sejong textbooks: 0962.328.328 (zalo)
Introduction to Sejong curriculum
Sejong syllabus compiled by language professors of Sejong Institute of Korean directly under Sejong University. Among the TOP 4 best quality Korean language textbooks for international students including Seoul curriculum, Yonsei curriculum, Sejong syllabus, curriculum Kyunghee.
Sejong Korean Language Academy was established in 2007 by the decision of the Korean government, with the purpose of teaching Korean to those who are interested and love the Korean language.
Sejong University was founded in 1940 and is named after King Sejong - the creator of the national language script used to this day. Sejong University was formed and developed with the goal of education and the core competency is training with emphasis on logical critical thinking ability, creative convergent thinking ability, self-management ability, problem solving skills. problem solving, communication skills, global competence, public awareness.
Along with the great investment in education, Sejong University has developed a system of universities, graduate schools, colleges and research institutes. With the investment in teaching quality, Sejong Korean Language Institute was established and is affiliated to Sejong University, which gathers the top Korean language professors, and then together to create a quality Sejong Textbook. quantity.
Sejong syllabus (세종한국어) is also a set of textbooks applied by universities in Vietnam
Korean language curriculum such as Hanoi School of Social Sciences & Humanities and Ho Chi Minh City School of Humanities & Social Sciences or Sejong Korean Language Center located at these two schools. These are the top two language schools in Vietnam.
Sejong syllabus includes
"Language is a culture" is not wrong. Sejong curriculum is compiled not only in terms of language quality, but also in integrating Korean culture and society. Sejong curriculum includes 8 books with beginner - intermediate - advanced levels. Each level corresponds to 2 books.
Each article includes 2 opening dialogues, vocabulary, grammar, analysis of grammar points and practice writing skills. Therefore, in each lesson, students can practice for themselves all 4 skills: listening, speaking, reading and writing. The dialogues of the course are accompanied by an audio version.
Sejong Korean Textbook 1 – 1
Sejong Korean Textbook 2 – 2
Sejong Korean Textbook 3 – 3
Sejong Korean Textbook 4 – 4
Sejong Korean Textbook 5 – 5
Sejong Korean Textbook 6 – 6
Sejong Korean Textbook 7 – 7
Sejong Korean Textbook 8 – 8
Conversation (Speak & Listen)
Sejong curriculum focuses on conversation (with audio file attached). The goal of the Sejong Curriculum is to help students speak fluent Korean when completing the courses. Students need to complete listening exercises and practice with conversation exercises in each lesson.
Formal (Read & Write)
Sejong curriculum is compiled with grammatical structures and students need to complete writing exercises, as well as practice. Good reading and writing ability will ensure that when students use Korean in communication, they will have correct grammar as well as correct pronunciation.
Since Korean is a tonal language, it is important for students to know how to spell words correctly in order to read them correctly.
Cultural
Cultural education is integrated in the lessons of the Sejong Curriculum. Korean uses many forms of speech when conversing with others, including special forms for elders or superiors, which is quite similar to Vietnamese culture. Therefore, cultural understanding is very important and indispensable in a complete education in the Korean language.
Exams & Certificates
Sejong University has built a great reputation for language training, so the curriculum achieves a guarantee of quality, helping students or international students get good results in TOPIK exams. or study abroad interviews with Korean universities.
Advantages and disadvantages of Sejong Textbook
The introductory course for students who are exposed to Korean for the first time is very important for the next steps. Sejong textbooks invest very well in the first steps thanks to: visual pronunciation instructions with pictures, step-by-step instructions for writing practice and always vivid illustrations for the curriculum, creating excitement. learning fun for the students and finally, the exercises are highly applicable to help the students gain solid knowledge and confidently apply it when communicating.
Therefore, the Sejong textbook is compiled to be simple, concise, easy to understand, and has concise vocabulary and grammar points. The Sejong textbook includes vocabulary compiled close to the TOPIK exam, hence the Textbook. Sejong is very useful for students or international students who want to get high results in TOPIK exam. Language learning methods are always a big concern of students when learning Korean language teaching materials.
The Sejong curriculum has the brightest point of having a correct teaching method, although it does not miss any skills, but the Sejong curriculum emphasizes listening and speaking skills, so the applicability when communicating is very high. No matter how fluent you are in language grammar, the goal of language is to communicate, to help people understand each other better. Therefore, this is a very right learning method right from the start.
Besides the advantages, the Sejong curriculum has a disadvantage that the textbook is written 100% in Korean, with no explanations in English. Therefore, the Sejong curriculum will be more suitable for learning Korean with an instructor or at Korean language centers than self-study, although being 100% Korean will help new students get used to the word. better.
Why is it necessary to get high results at TOPIK exam?
TOPIK is a Korean language proficiency test for those who want to apply for a visa, apply for a job or want to study in Korea (the majority). TOPIK is organized by the Korean National Institute of International Education, this exam is not applicable to native speakers, and is usually held usually 5 times a year in Vietnam: in April, May, May. 4, October and November. In Vietnam, there are 5 places to hold the TOPIK exam:
Korean School Hanoi. – Extended Le Duc Tho Street, Mai Dich Ward, Cau Giay District
Ho Chi Minh City Korean Language Center – 47 Nguyen Cu Trinh, Nguyen Cu Trinh Ward, District 1, Ho Chi Minh;
Hong Bang International University. – 215 Dien Bien Phu, Ward 15, Binh Thanh, Ho Chi Minh
University of Foreign Languages ​​– University of Danang – 131 Luong Nhu Hoc, Cam Le, Da Nang
University of Foreign Languages ​​– Hue University – 57 Nguyen Khoa Chiem, Hue
The results of the TOPIK exam can help you apply for a visa, especially for those who wish to study in Korea, it can also help you apply for scholarships at Korean universities. The better the results, the more the cost of studying in Korea will be reduced when the cost of studying abroad is a concern of many parents of international students.
Therefore, choosing a suitable curriculum, following the exam is quite important for international students. So, Sejong Course is definitely an option worth keeping in mind.
Some tips that can help you get a high score in TOPIK . exam
Determine the TOPIK goal that international students want to achieve. Try taking sample tests and grade yourself to see how far you've come. This can help international students know how their Korean language ability is, and decide to continue practicing or register for the exam, avoiding the case of wasting exam opportunities with bad results or low levels. consistent with their own abilities.
TOPIK 1 is not too difficult, because this is the most basic level in Korean. International students only need to study and practice with the books in the Sejong Curriculum for the beginner level to be able to take the exam. The point that needs to be improved at this level is the basic sentence structures and conversations that can be achieved with this degree.
Please update yourself with the latest TOPIK exam questions, so that you can understand the requirements and changes in the TOPIK exam. And always start with the beginner level exams. This not only helps international students check their foundation is strong or not, and also gives them more confidence when taking higher levels.
Understanding the exam questions is the most important thing, so international students need to know and master the skills when taking the test. During the test, you need to focus on the questions you are sure of and the questions you don't know or hesitate, just choose the answer, after you finish the test, you can come back to check it if you have time.
But of course, with the Sejong curriculum, along with the hard work of the international students themselves, hopefully those difficult questions will not be difficult for you.
In summary, the Sejong Curriculum has the following main advantages:
Have a solid set of words, grammar that follows TOPIK . exam questions
There are methods to practice all 4 skills: listening, speaking, reading and writing
There are specific instructions
There are vivid, attractive illustrations
Should be for students with a guide.
Hopefully this article has provided sufficient information about the Sejong Curriculum for international students, as well as parents, a choice of quality Korean language learning materials. And also hope that the international students can achieve good results in the future.
Nguồn: https://sejong.edu.vn/
Related news