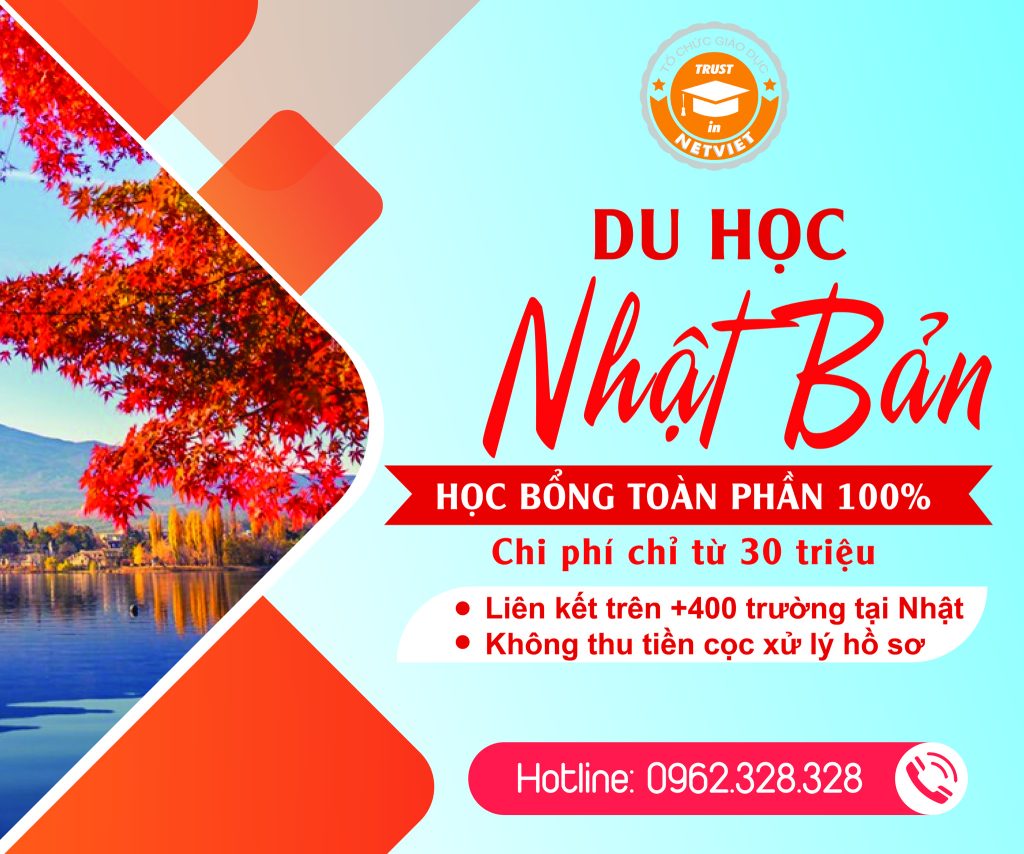 Have you ever thought about study abroad in Japan. When you come here to study, you will have a lot of great experiences. And this is also considered a great way to discover new lands. Most of all, to be able to challenge yourself. The following article will provide you with all the information about studying in Japan.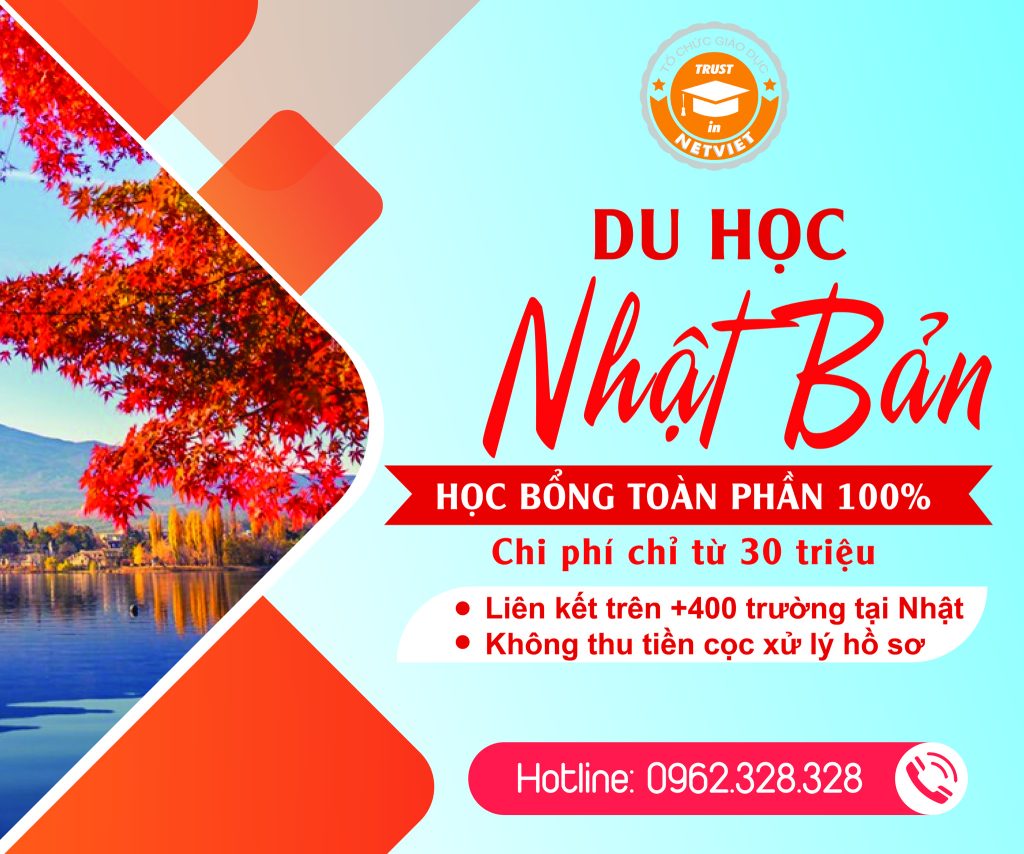 About Japan
Geographical location
Japan (Japan) is an island country located in the Northeast on the Asian continent. Japan is called an island nation because of the four archipelagos that make up this country. These include the Japanese archipelago, the Kuril Islands, the Izu-Ogasawara Islands and the Ryukyu Islands. Located in the underground mountain range and extending from Southeast Asia to Alaska.
Japan is surrounded by the Pacific Ocean. Therefore, on the mainland, there is no border with any country. At sea bordering with countries: North Korea, Russia, China, South Korea, Philippines and Taiwan.
About the climate
Thanks to its temperate climate, Japan is ranked in the Top 10 most beautiful countries in the world. In the world, this is the country with the most islands (with 7000 islands).
Because it is located on the rim of the Pacific Ocean, which is bordered by many continents. So volcanic eruptions or frequent earthquakes are also terrifying tsunamis. With such a flood of natural disasters that fell on other countries, it must have been wiped out. Japan, however, is the complete opposite. His unyielding spirit made the whole world respect.
Economic
War has suffered a lot of severe consequences plus natural disasters occur frequently. With extremely scarce resources. However, in the world Japan is one of the five countries whose economy is the center of the world. And also a permanent member of the United Nations. In such a country, there is nothing better than choosing to study abroad.
Is studying in Japan really good or not?
The answer to the question Is studying in Japan really good or not? Will definitely be very good. Studying in Japan is perfect in all aspects from learning about culture, learning Japanese, being able to learn outstanding achievements in science and technology of Japan…. Should study in Japan if possible. Here are the reasons that you should come to Japan to study.
Learn Japanese program
Normally, when studying in Japan, you can choose either Japanese or English. However, most schools require Japanese and must have at least N5. Or you can also take a preparatory course in Japanese. Within 1 year if you have never studied Japanese. Thus, your Japanese ability will also increase quickly
Study abroad in Japan will be better specialized
In Japan, there is a very formal education system. The education system can meet all your needs from vocational training programs to university programs. Each school has different entry requirements. For vocational schools, only interviews and academic records are required.
However, for undergraduate and graduate programs, the same entrance exam and interview requirements will be required as the program in Vietnam. But for international students from abroad, it is not too strict. The training programs in Japan are trained close to the actual program, the learning methods and the most advanced curriculum.
After graduating in Japan, you have wide job opportunities
The country is facing a serious shortage of human resources due to the aging population. The number of people over 64 years old in Japan accounts for 23% (according to the data of 2020).
In order to attract foreign workers, the Japanese government has introduced many preferential policies. Therefore, after graduation, there are great job opportunities. Especially in industries such as: Design - construction, hotel and restaurant management, technology - automotive engineering, mechanical engineering....
In Vietnam, there are also many Japanese enterprises investing. When you return to Vietnam, you will also have many job opportunities if you do not want to come to Japan. Then you will have a lot of strengths. The first is about Japanese proficiency. You will also gain work experience while studying abroad.
Studying abroad in Japan under the study-by-work program
Funding for self-sufficient study abroad will definitely be the issue that you need to pay attention to the most. However, now in Japan there is a study abroad program to study and work. You will be allowed to work up to 28 hours per week. You can also work overtime outside of the allotted time, which will also incur additional costs.
Study abroad in this form, you will pay tuition fees as well as living expenses. Or even have extra money to send back to your family if you're smart and hardworking.
Long term job opportunity
As for the labor export, as soon as you arrive in Japan, you will be able to make money immediately. Only allowed to live and work in Japan within 1 year to 3 years under the labor export category. After the end of the contract, it is difficult for you to return home because you do not have the qualifications and expertise.
When choosing to study abroad, there will be good expertise. And there will be many opportunities to learn Japanese and experience the culture like a local. When returning home, there will be more job opportunities thanks to professional qualifications to foreign languages.
Conditions to study in Japan in 2021
There will be different study abroad conditions in the training programs. Therefore, students studying abroad in Japan need to determine the level they attend to be able to determine the basic conditions.
General conditions
International students from 18 to 30 years old
Graduated from programs in Vietnam such as: high school, college or university
No criminal record, criminal record
In Vietnam as well as in Japan, entry and exit are not prohibited.
No infectious diseases.
Conditions for high school level in 2021
About level: Are students who have graduated from secondary school (or students who are about to graduate)
Regarding foreign language proficiency: International students need a Japanese certificate of N5 or higher,
Financial proof: For guarantors, it is necessary to have a passbook and a bank account with at least 800 million VND.
Note: Students will have to take a Japanese language course if they do not meet the Japanese language requirements. The study period will be from 4 to 6 months (about 150 hours) or more. You need to continue learning Japanese when you come to Japan until you meet the entrance requirements for the school you have registered.
Conditions for colleges, universities, and graduate schools in 2021
For college and university levels, the required Japanese language level is N3 or higher. In addition, you also have to attend preparatory courses for a period of 1 year while in Japan. And there are the following entry requirements:
About the level of education
Graduated from high school (Not more than 4 years by the time of study abroad),
For students who have graduated from intermediate, college or university majors, the time limit will be longer (6 years),
The age group is from 18 to 30 years old, however, the lower the age, the easier it is to consider the application.
GPA of the high school program must be 6.0 points or higher (no weak points in any subject)
For students with a 5.0 GPA, they can still study abroad. However, only reputable schools or small schools receive training.
About Japanese language certificate
Must have reached the level of N5 or higher in Vietnam if not having to attend the elementary course with the duration from 4 months to 6 months. It can also be a study abroad application if you have reached N5.
In Japan, it is necessary to take a preparatory course (within 1 year) to reach the level of N3 or higher. Or you can also skip the preparatory period if you have met the requirements of the registered school.
About financial proof
Financial proof is required when studying in Japan for self-sufficient study abroad students. Students need to ensure that they have enough financial resources to pay for living and studying in Japan for at least the first year. You need to have a financial guarantor, be it a parent with a stable income. Bank accounts and savings books must reach VND 1 million or more. And this amount needs to be deposited 500 months before making the application.
Cost to be able to study in Japan Nhật
About tuition fees
When studying in Japan, there will be different tuition fees. Depends on the school as well as the major you study. Compared to European or American schools, tuition fees in Japan are not as high. There are two types of schools in Japan: private and public. According to Japanese government regulations, public schools will have 2% of the tuition fees compared to private schools. Specifically:
For national and public schools: Tuition is 540.000 yen per year. Admission fee will be 1 yen (applicable to both undergraduate and graduate level, only one time payment.

For the group of private schools: The tuition fee will range from 875 Yen to 000 Yen per year. The admission fee will be from 3.700.000 to 1 yen per year.
About eating
You can choose from a variety of dining options such as eating at the canteen, cooking for yourself, or eating out. And of course eating at the canteen or cooking for yourself will save you more money than eating out. The cost for self-cooking will be 15.000 yen per month. It only costs about 1 yen per year for food.
The cost of meals will be more if you choose to eat outside.
About accommodation
Cost of living in a dormitory
Living in the dormitory is also being chosen by many international students. Because there are many advantages here such as: Basic household items will not need to be purchased, but near the school. So you can save an additional cost that is commuting.
In the Tokyo area, the dormitory fee will be 160.000 yen for 3 months. In Osaka it will be 130.000 yen over 3 months. In other areas it will be lower.
Expenses when going out to rent a house
Most international students in Vietnam choose to rent a house outside. Because the cost is lower than choosing a dormitory. The cost of renting a house ranges from 30.000 to 50.000 yen per month (may vary depending on the area you study in).
However, it will cost you quite a bit more if there are many other expenses. For example: Water and electricity bills will be about 7.000 yen per month. Internet and gas charges are about 1 yen per month. All require a deposit and of course there will be an additional fee.
Cost when choosing to live with a local (Homestay)
For students who love Japanese culture can choose this form. You can choose to live with a certain family and the cost to pay ranges from 80.000 to 100.000 yen per month (includes a lot of expenses such as transportation, meals, water, money, etc.) electricity….
Some other expenses
Phone charges: About 2.000 yen per month.
The cost for travel is about 3000 yen per month.
There are also many other extras plus pocket money ranging from 180.000 to 200.000 yen per month.
Support programs for scholarships to study in Japan
Scholarship program to study in Japan for all fields
Age requirement: Under 35 years old.
Scholarship recipients:
Students who have graduated from the University program.

Priority will be given to state officials and employees, those working in enterprises and state agencies, or those working at colleges, universities and research institutes.
Study period from 3 to 5 years XNUMX
Value of Scholarship: Full fees such as round-trip airfare or study. In addition, each month will receive an additional allowance from 143.000 to 145.000 yen.
Scholarship Program to study in Japan for PhD students cứu
Age requirement: Under 22 years old.
Scholarship recipients:
Those who have graduated from the high school program

Those who have won in regional, international and national tournaments. Or students who have been directly recruited by universities according to the national mechanism will be given priority.
Field of application: Natural sciences and social sciences
Duration of study: About 5 to 7 years (Japanese language learning time will be 1 year and 4 to 6 years for majoring.
Value of the scholarship: Between 117.000 and 120.000 yen per month. All study expenses are included in the entire course of studying in Japan.
Scholarship program to study in Japan for international students majoring in professional engineering
Age requirement: Under 22 years old.
Scholarship recipients: Those who have graduated from high school programs
Majors applying for the scholarship program: Electrical - Electronics, mechanical engineering, telecommunications, material - raw materials, construction, architecture, maritime trade....
Duration of study: About 4 years (In which 1 year of studying Japanese and 3 years of studying engineering).
Value of Scholarship: This is a full scholarship program, ranging from 117.000 to 120.000 yen per month.
Scholarship program to study in Japan for international students
Age requirement: Under 22 years old.
Scholarship recipients: Those who have graduated from high school programs
Majors applying for the scholarship program: Fashion, tourism, design, cosmetology – beauty, chef…
Duration of study: About 3 years (including 1 year of Japanese language study and 2 years of vocational training).
Value of Scholarship: This is a full scholarship program, ranging from 117.000 to 120.000 yen per month.
The latest information about the Japanese study abroad program in 2021 has been fully updated by the article. Hopefully the information that the article provides are the problems you are looking for. Or if you still have questions, you can contact us for more advice.
Related news