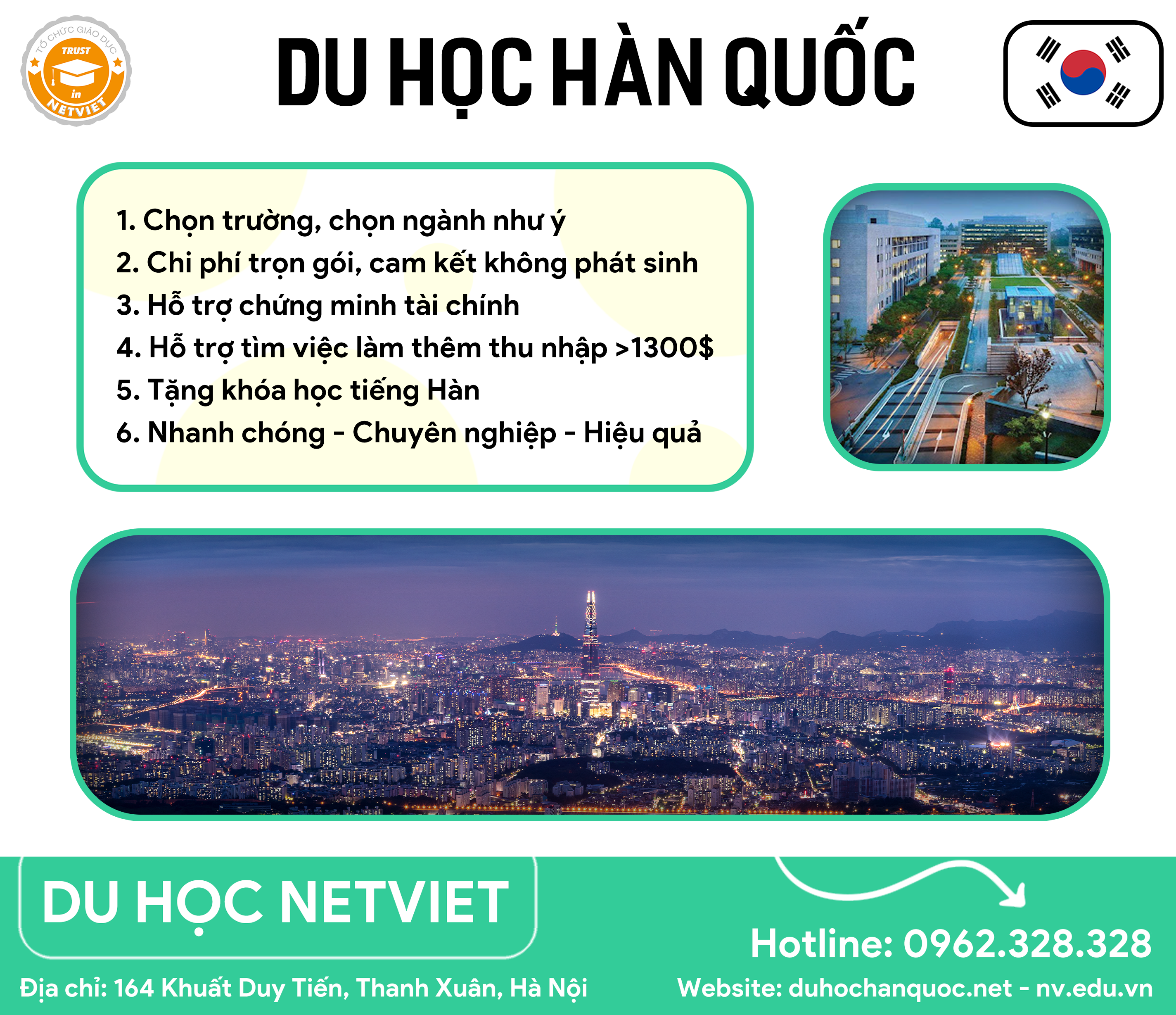 Korea is currently one of the countries with the fastest growing economies in Asia. Along with the development of the entertainment industry, many young people decide to study in Korea to learn more about the culture of the land of Kim Chi. This paragraph NETVIET will provide readers with the advantages of studying in Korea and the conditions to study in this country.
1. Why are more and more people choosing to study in Korea?
1.1. Korean government support for international students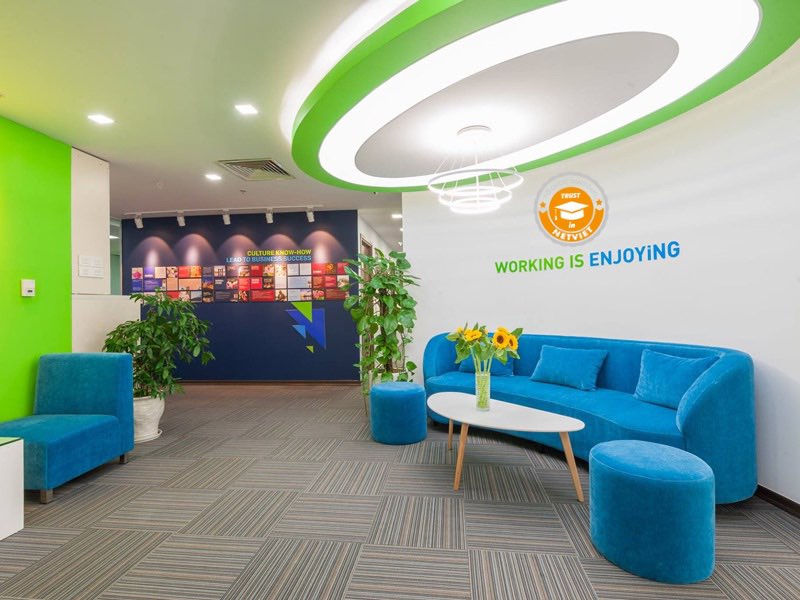 As countries around the world continue to realize the immense value of international exchange, from the dollar to diversity of thought, many governments are working to attract international students. Korea is among them.
Besides the relatively low tuition fees and living costs, one of the attractions for international students is the Korean government's scholarship programs. Since 1969, the Korean government has provided more than 6.550 scholarships to international students from 150 countries and regions.
Every year, the Korean government supports about 2.000 scholarships for international students. In addition, many universities and organizations also offer their own funding programs for international students.
1.2. Korea's economy is booming
In addition to being one of the "Asian dragons", South Korea is also the 12th and 25th largest free economy in the world. A dynamic private sector with a well-trained workforce and high capacity for innovation capitalized on its openness to global trade and investment that earned Korea an economic freedom score of 74. in the Heritage Foundation 2020 Index of Economic Freedom.
On Korea's economic dominance, Investopedia said: "Over the past four decades, Korea has demonstrated incredible economic growth and global integration to become an industrialized economy. […] The country is one of the top exporters in the world and offers excellent investment opportunities, as demonstrated by its ease of doing business. "
1.3. This is where many high-quality academies are located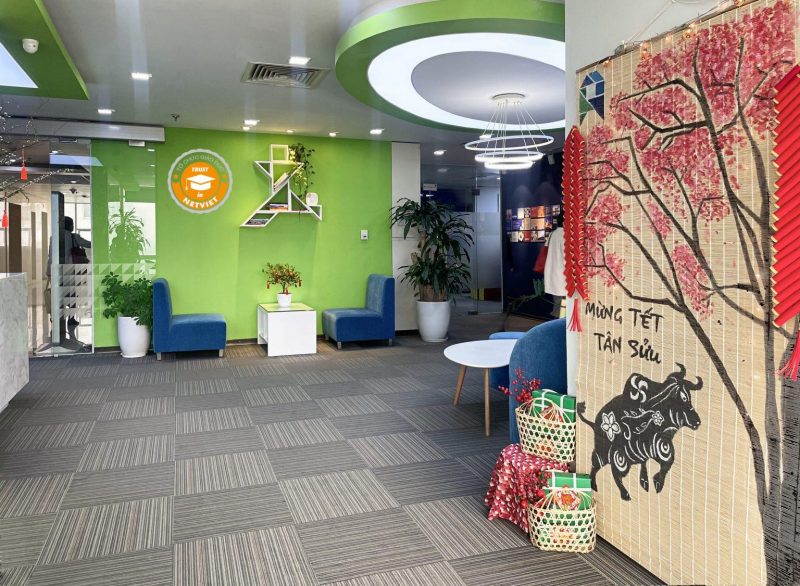 Korea is widely recognized for its high-quality higher education system, and earns the highest scores among OECD (Organization for Economic Co-operation and Development) countries for academic achievement and competitiveness. educational picture.
International students in Korea not only have access to top-notch educational opportunities, but they also benefit from exceptional employment and career development and support while studying at colleges and universities. study of the country.
1.4. High quality of life
According to the OECD Better Life Index (OECD's better life index), South Korea scores above average on a range of measures, including housing, civic engagement, and employment. , income, education, skills and personal security.
It should also be noted that international students who have studied in Korea report that their life satisfaction is very high. When asked what factors supported their satisfaction, the students cited comfortable and safe housing and transportation, different cultural activities and opportunities to interact with people from all walks of life. Different origins are the main factors.
Also on this list are other factors such as: great food, high quality education, wonderful weather and nature. The students are also satisfied with the high standard of living they experienced while studying in Korea.
Minjung Kim, who studied at INHA University in Incheon and now works as a data analyst in Oslo, Norway, said: "Korea is considered the safest country in Asia and road criminals street like petty theft is extremely rare. Korea is one of the most dynamic and modern countries, and living there as a student is all about experiencing top-notch education and being exposed to new things."
1.5. You will experience a rich culture while studying in Korea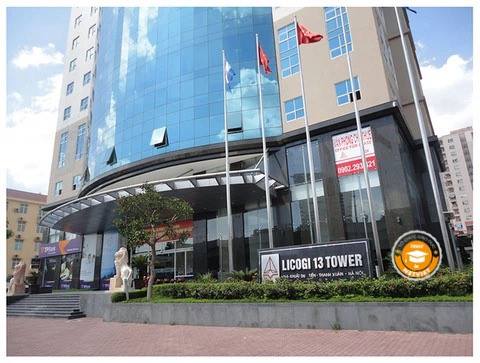 Korea prides itself on its unique and remarkable blend of traditional and cutting-edge cultures. With a history of thousands of years, Korea offers everything from the bustling metropolis of Seoul, to an idyllic countryside, to 10 UNESCO World Heritage Sites; all are easily accessible thanks to the excellent transport infrastructure and compact size of the country.
In addition, studies in Korea provide first-hand insight into the unique culture and entertainment that created the "Hallyu Wave".
Festival lovers will also find a lot to love in Korea, and so will food lovers. Koreans are proud of their food culture and rightly so, there is a fascinating array of dishes, flavors, aromas and textures in the local cuisine, washed down by the many associated barbecue to a wide range of alcoholic beverage concoctions.
Selene Calje, a student from the Netherlands and also living in Australia, told SI News that she was attracted to Korean studies by a long-term interest in Asian culture. However, when she came to Korea, another aspect of life in Korea made a huge impression on her.
"The people are so kind and I feel almost always welcome wherever I go," says Selene Calje. I really like the environment here."
2. An overview of the Korean education system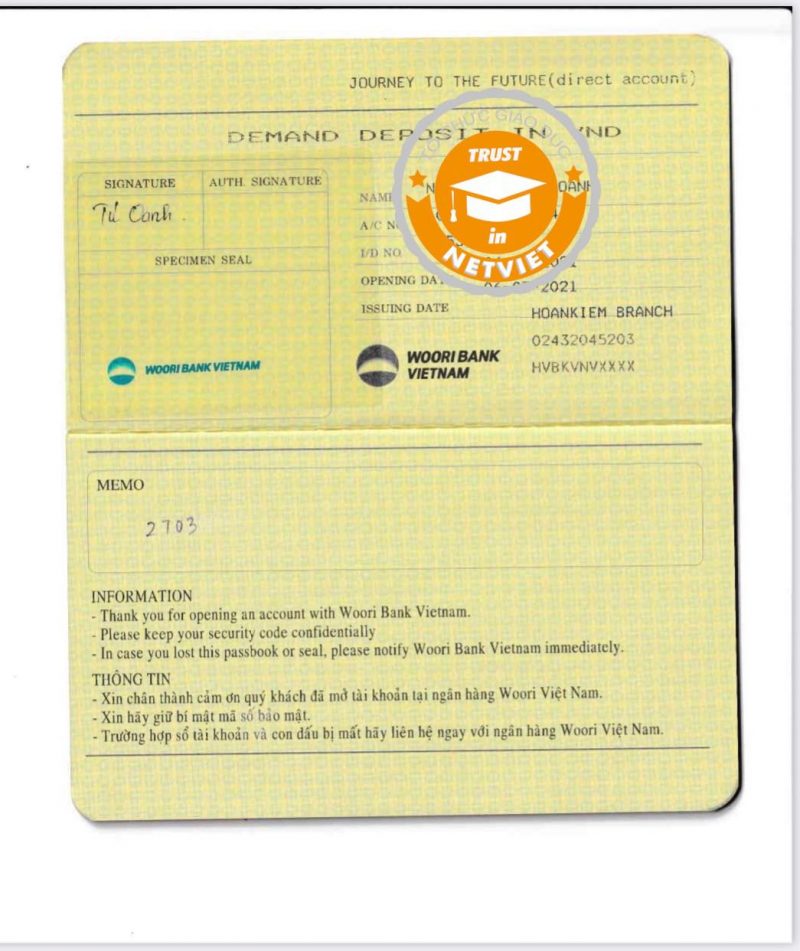 2.1 Education system
As in most countries around the world, Korean students need to finish 12 years of school with 6 years of elementary school, 3 years of middle school, and 3 years of high school to be eligible for university and high school. college.
Similar to the US, the undergraduate program is about 4 years, the master's program is 2 years, then the doctoral program. There are also vocational secondary schools and colleges, which have lower admissions thresholds.
Universities in South Korea have two semesters a year: the spring semester from March to June and the fall semester from September to December. Semesters usually last for about 3 weeks.
2.2. Study options for students studying abroad in Korea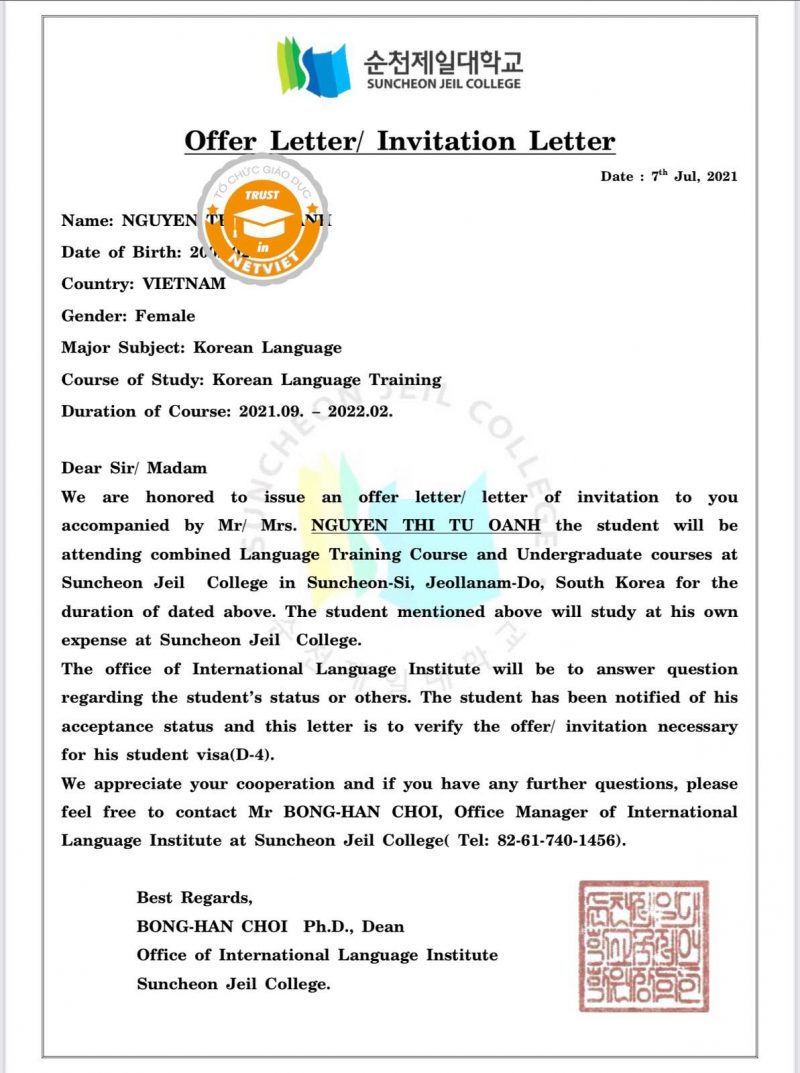 During their study in Korea, international students have the following options:
1-2 semesters studying English language programs as a visiting student (provided you are studying at a university in your home country).
Short-term summer courses or 10-60 week semester programs for Korean language study programs at Korean universities. Read more about studying Korean courses in South Korea.
Degree programs are taught in Korean or English or include both Korean and English, covering a wide range of subjects.
Fluency in the Korean language is essential for cultural integration. Without knowing Korean, daily life in the local society is very difficult and inconvenient. Knowing Korean at Topik level 3 or higher is often a prerequisite for degree programs in Korea as degree programs taught in English will also have some classes taught in Korean.
Therefore, most international students will study the language at the Korean Language Institute (KLI) of one of Korea's many universities first. Besides, there are also many private Korean language schools, but KLI private language schools cannot sponsor student visa.
In universities, the Korean language program consists of 4 quarters a year, each quarter has 10 weeks. Language classes take place five days a week, each day for about 4 hours (in the morning or afternoon).
3. General requirements for studying in Korea as an international student
Depending on your field of study, courses will be taught in Korean or English. Most universities will require their applicants to present documents indicating their level of understanding of these languages.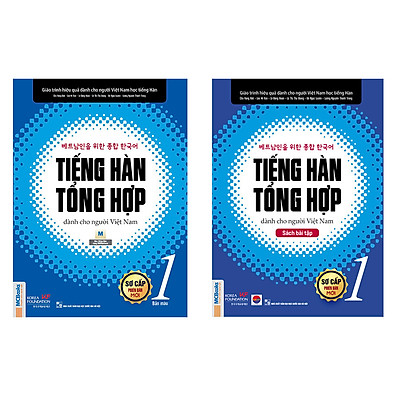 3.1. General requirements for Korean and English when studying in Korea (University)
In general, you will need at least level 3 Korean language proficiency (Test of Korean Language Proficiency, TOPIK) and/or a minimum score of 80 for TOEFL iBT or 5.5 for IELTS.
For example:
Seoul National University requires a minimum TOPIK level 3 or higher or a minimum of 80 TOEFL iBT, 6.0 IELTS or 551 TEPS scores in English proficiency.
Sung Kyun Kwan University requires a minimum of TOPIK level 4 or higher or one of the following requirements for English proficiency: English Track A – TOEFL iBT 90 or IELTS 6.5 or higher; English test B – TOEFL iBT 80 or IELTS 5.5 or higher.
3.2. General requirements for Korean and English when studying in Korea (Postgraduate)
For international students to study in Korea, the language requirements for graduate program applications are similar to the university's undergraduate requirements. You need Korean language level 3 or higher and TOEFL iBT score of 80 or higher or IELTS 5.5 or higher.
For example, the language proficiency you require to enroll in Seoul National University's graduate program is the same as its undergraduate program (except for certain courses).
The prerequisites vary from university to university, so you should review the official application requirements of the university to which you are applying.
3.4. Admission Requirements (Undergraduate)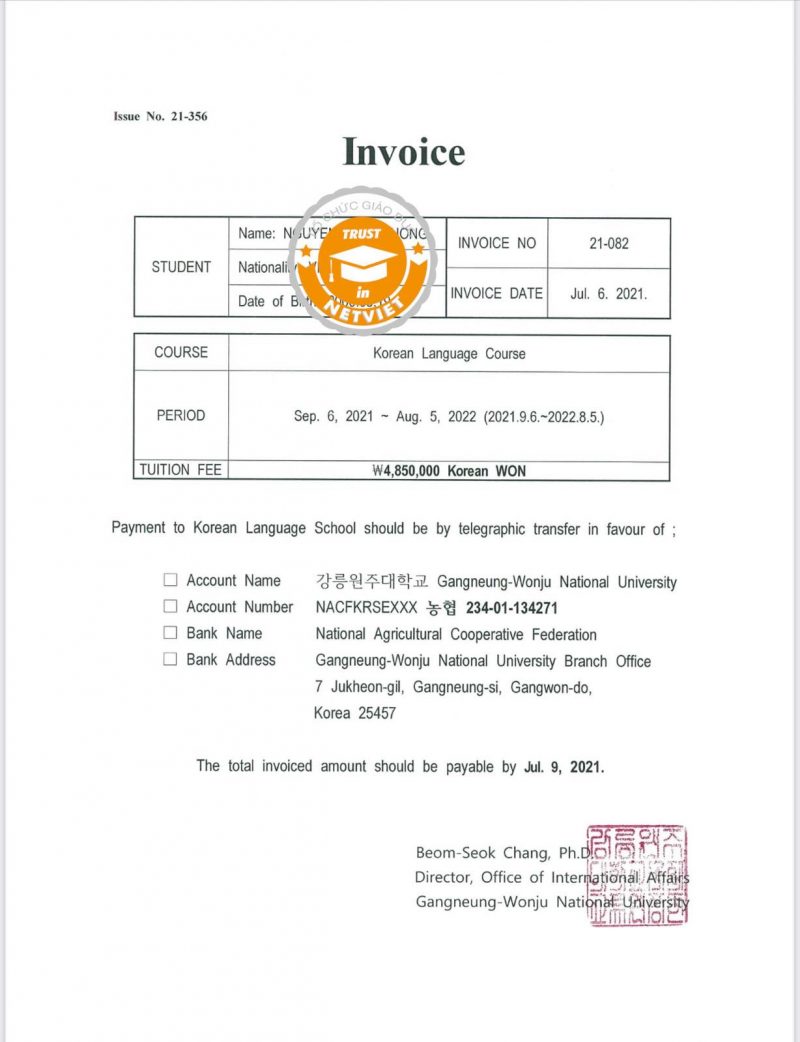 These are the usual documents (examples taken from Yonsei University) that you are required to send to the university after you have completed your online application. If your document is not original, you will most likely need to notarize a copy before submitting it. You should keep copies of your submitted documents as they will not normally be returned to you.
Admission application form
Personal essay
Proof of language proficiency (Korean or English or both)
Letter of recommendation or advisor reference
High school transcripts
Copy of your passport
Copy of your parents' passports
Birth certificate
Optional materials may include high school records, standardized tests, and other indicators of academic achievement.
Additional materials such as awards, portfolios or volunteer activities during high school
Registration fee ($70 – $150)
3.4. Requirements to apply when studying in Korea (Postgraduate)
Typical documents (examples taken from Korea University) that graduate applicants must submit are as follows:
Admission application form
Personal essay
Proof of language proficiency (Korean or English or both)
Introducing letter
Degree certificate or expected graduation
Official scoreboard
Personal documents such as a copy of your passport or family register
Financial report
Registration fee ($90 – $120)
4. Details of the application for a Korean student visa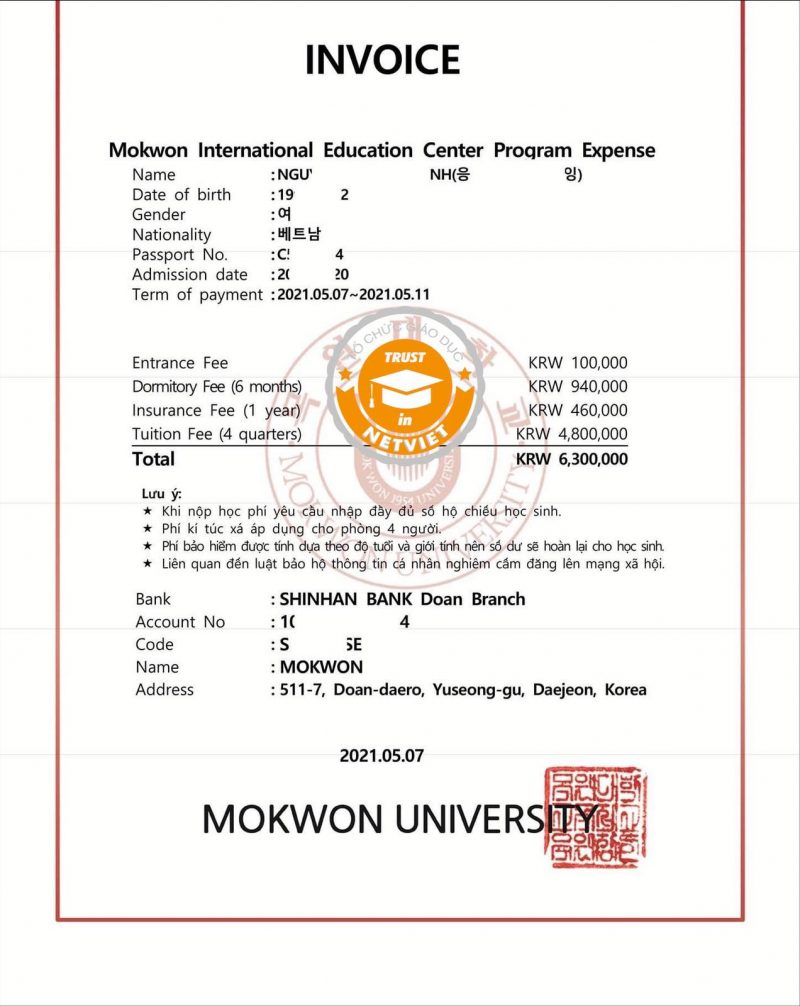 After submitting your application and receiving an offer of admission from the university, there are a few more things you need to do before you are ready to study in Korea as an international student.
Once you have confirmed your acceptance and payment of tuition fees for the first semester (some universities may also have a one-time admission fee), your university will issue you a certificate of admission. and other necessary documents that you will use to apply for your Student Visa (D-2) at the Korean Embassy or Consulate in your home country.
The required documents for a Korean student visa application may vary slightly from country to country. Please check the official website of the Korean embassy or consulate in your country. For example, here are the documents that you will be required to prepare if you are from Vietnam:
Korean student visa application form in Korean or English
Passport (valid for at least 12 months from the time of application submission)
01 profile photo of size 3,5cm x 4,5cm, taken on a white background within 03 months
Original admission letter
A copy of the business registration certificate of the school you are going to attend
Copy of ID card/citizen identity card (bring original)
Test results for pulmonary tuberculosis
Student visa application form
Where to apply for Visa?
Vietnamese citizens with household registration from Da Nang to the North: submit documents at the Korean Consulate in Hanoi. Citizens from Quang Nam back to the South who reside in South Korea must apply at the Korean Consulate General in Ho Chi Minh City.
5. Cost of studying in Korea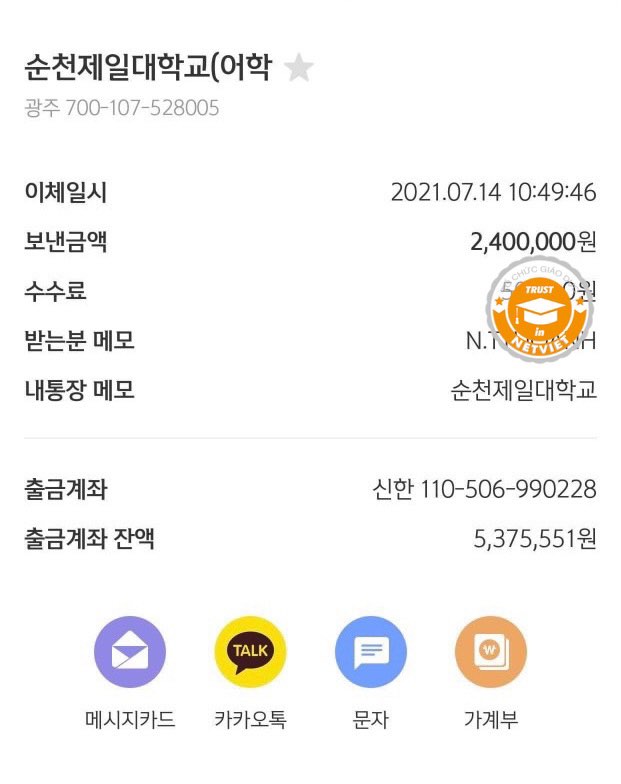 5.1. Tuition fees when studying in Korea
Universities in Korea charge the same tuition fees to domestic and international students in order to attract more foreigners to study in Korea and create an international academic environment.
Private universities are more expensive than public universities. Courses like medicine and engineering are much more expensive than courses in the humanities. In addition to tuition fees, newly registered students are also required to pay a one-time registration fee and/or one-time admission fee at the start of the course. Students usually pay once or twice a year.
The annual tuition fee for undergraduate students is $4.000-20.000. However, this fee depends on the university and training program, with an average of 11.000 USD. Meanwhile, language learning programs are cheaper, ranging from 1.300-1.600 USD per 10-week semester.
5.2. Living expenses when studying in Korea
The relatively low cost of daily meals, transportation and housing make studying in Korea possible and easy. The school cafeteria offers cheap and high-quality meals for a few dollars. Grocery items in the supermarket not only have a wide selection but also very affordable prices.
If you spend sensibly, your monthly meal will fluctuate around $300. Large cities like Seoul and Busan have good public transport networks that are efficient, cheap and environmentally friendly. Public transportation in Korea is very cheap, if you live in the city where you study, you will earn a monthly commuting fee.
South Korea may not be the first country that comes to most people's mind when they think of international study abroad destinations, but with the remarkable developments in recent decades, the country is promising destination for international students. Believe that studying abroad in Korea will become an unforgettable memory in the life of every international student who has ever come to study in the land of Kim Chi.
Study abroad Netviet
https://www.facebook.com/duhochanquoc.net
Hotline/Zalo: 0962.328.328 VND
Related news