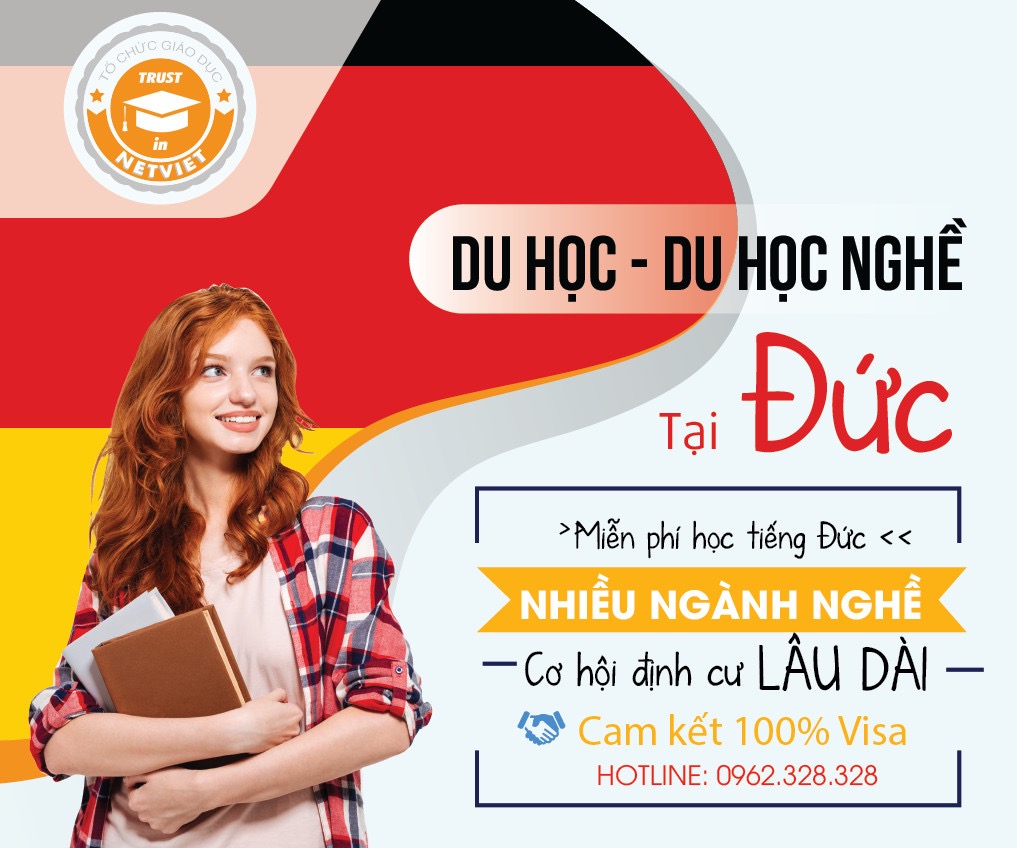 Study in Germany attracting more and more people's attention? Besides the 100% tuition-free policy, studying in Germany also brings many unexpected benefits, which are difficult to find in other study abroad destinations in the world. Let's learn about studying in Germany through the article below!
Why study in Germany?
Europe's leading education system
German has an education that is rated among the top in Europe. This place has many prestigious universities, in the ranking of 200 best universities in the world. In addition to outstanding teaching quality, Germany is also famous for its extremely high-quality learning environment and modern facilities.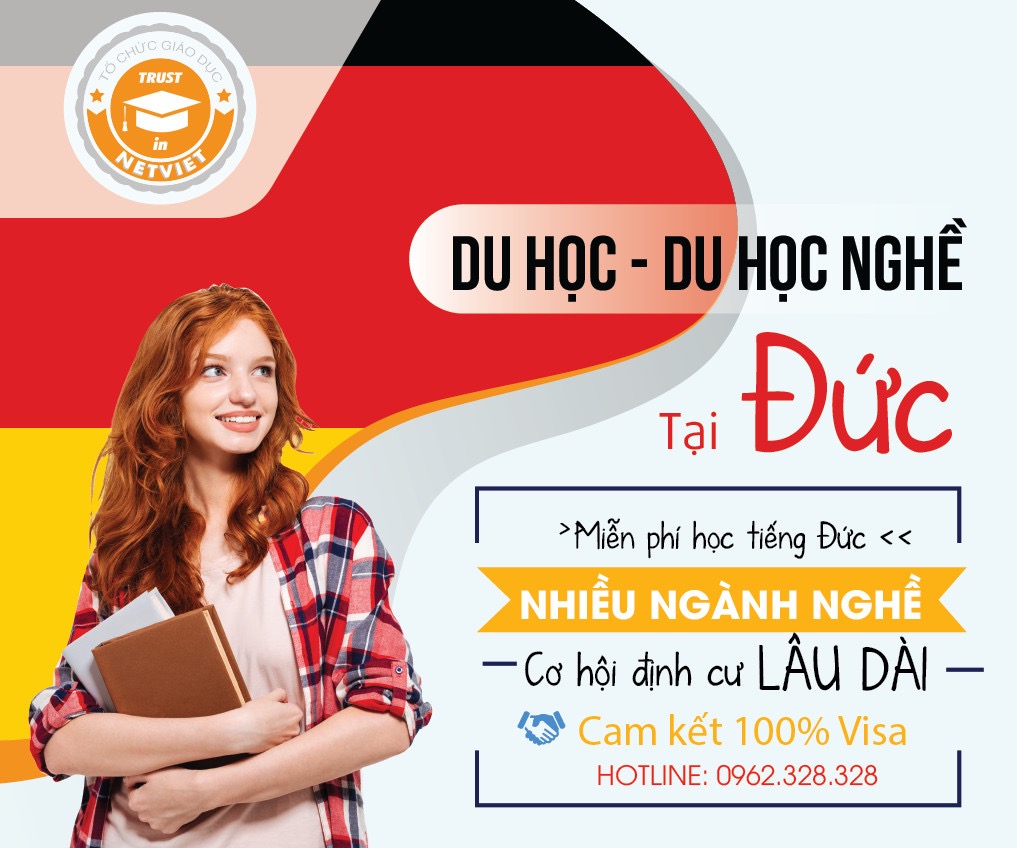 The German government also pays a lot of attention to the education sector. Each year, Germany offers a variety of research grants and scholarships to undergraduate and graduate students. These efforts are aimed at encouraging students to carry out projects and research that are useful for the development of the community and the country.
Currently, Germany has about 450 public universities and offers more than 17.500 training programs in a variety of fields.

100% tuition free policy
Study abroad Europe is no longer a distant dream when you can access a quality German education with absolutely no tuition fees. Currently, there are nearly 300 universities in Germany that are applying a tuition fee waiver policy for international students studying Bachelor's degree. Most states in Germany adopt this policy.
All students from any country in the world can enjoy this attractive offer. You no longer have to worry about university tuition fees like when studying abroad in other countries. Instead, just prepare for accommodation and living expenses while studying.

Wide career opportunities
German students after graduation have open job opportunities. You are allowed to stay in Germany for 18 months to look for work. This is one of the preferential policies that the German government offers to international students. The long stay provides many career opportunities for students after graduation.
Most international students after graduation choose to stay in Germany to look for work. Statistics from Study In Germany show that up to 69,2% of international students have chosen to stay in Germany to work. This proves that the labor market in Germany is constantly increasing and the demand for human resources is increasing.
Besides, the working environment here is also one of the attractions and retention for international students. Universities in Germany focus on creating relationships and close links with businesses, so students will have many internship and job opportunities after graduation.
High quality of life
Germany is a civilized country with a high quality of life. Cities are not only economically developed, but also artistic centers of Europe. For example, Berlin, Munich and Hamburg are all places you should take your time to explore.
Due to the modern infrastructure system, moving and traveling in Germany is very convenient. This has promoted the development of tourism as well as created conditions for international students to visit Germany. During the day, you can visit the beautiful architecture, ancient castles and nearby parks. Night is a great time to experience the vibrant German life. Tourism is also one of the reasons why students choose to stay in Germany after graduation.

International learning environment
Germany is a popular study abroad destination for students worldwide. Therefore, the learning environment here is multicultural. Besides German, German universities offer more and more programs taught in English.
Besides, Germany is also located in the center of Europe, so it is very convenient for you to visit neighboring countries.
Conditions for studying in Germany
Students must participate and pass the National High School Exam 2020 with independent tests: Math, Literature, Foreign Languages ​​(English, German or any other languages ​​included in the 2020 High School Graduation Exam Program) )
Candidates must take 1 suitable Elective Compound Exam from among the following: Natural Sciences: Physics, Chemistry, Biology or Social Sciences: History, Geography Education, Citizenship.
The total score of six subjects in the national high school exam must be at least 36 points (no multiplier, no rounding). In addition, no test subject is less than 4 points and at least four subjects are not less than 6 points.
Candidates must be admitted to the Regular University Training System at a Vietnamese University.
Scholarship to study in Germany
Studying in Germany not only attracts international students thanks to its free tuition policy, but also has many attractive scholarship programs. Scholarship programs usually cover living expenses for international students. Therefore, if you try and have a successful scholarship plan, you can completely study in Germany for free. Here are some popular types of scholarships in Germany:
Government Scholarships
DAAD . Scholarship
DAAD stands for Deutscher Akademischer Austauschdienst German Academic Exchange Service. It is one of the largest scholarship organizations in the world. Vietnam is also on the list of sponsors of DAAD. This organization offers a variety of scholarships at Bachelor, Master, and PhD levels in all fields of study. In addition, DAAD has its own scholarship program for people with outstanding talent in the field of music.
The amount of the scholarship received will correspond to the academic capacity of the candidate. Usually at 750 euros (about 19 million VND)/month for bachelor's programs and 850 euros (about 22 million VND)/month for master's programs. For the PhD program, the scholarship is awarded up to 1.200 euros (equivalent to about 31 million VND)/month. International students can refer to scholarship programs on DAAD's scholarship aggregator page.

Deutschlandstipendium Scholarship
Deutschlandstipendium is a scholarship program jointly funded by the German government and private companies open to all students at every university in Germany. The criteria for awarding scholarships are based on the academic achievements of German students, regardless of whether they are German students or international students from any country.
Scholarship criteria also vary from school to school. The university representative will award this scholarship to the suitable candidate. At some universities, in addition to academic results, students must also contribute to community activities or the ability to overcome adversity will also be considered.
Students are entitled to a scholarship of 300 euros (equivalent to 8 million VND) per month. In addition, students also participate in specialized training programs, meet with sponsors to find job opportunities and internship programs. Scholarships are usually applied for at least two semesters, however, students can renew the scholarship if they meet the scholarship requirements set forth by the university.
Non-Government Scholarships
Friedrich Ebert Stiftung Scholarship
The political organization Friedrich Ebert Stiftung offers a scholarship program for students who are interested in citizenship or want to contribute to socio-political activities. The level of the Friedrich Ebert Stiftung scholarship is up to 1.000 euros (equivalent to about 25 million VND) per month. In order to help students cover management costs, health insurance and school supplies, etc.
Bayer Scholarship
The Bayer Foundation offers 5 scholarship programs in different fields:
Otto Bayer Scholarship for Life Sciences
Carl Duisberg Scholarship for Medicine
Jeff Schell Scholarship for Agriculture
The Kurt Hansen Scholarship for Biology and Chemistry and Hermann Strenger is for those who want to improve their skills in the Health, Business and Science fields.
With the exception of the Hermann Strenger Scholarship, the remaining scholarship programs are for research purposes. The fee to be funded for a research project is around 20,000 euros (517 million VND)/project.
Heinrich Boll Scholarship
The Heinrich Böll Foundation offers scholarship programs for students pursuing STEM (Science, Technology, Engineering and Mathematics) and related majors in Environmental Science. However, this scholarship only applies to Master and PhD students.
To be eligible for this scholarship, the required criterion is that the candidate must have German language ability of level B2 or higher. Applications are submitted via the online method, the application deadline is about 6 weeks.
Konrad-Adenauer-Stiftung (KAS) Scholarship
KAS scholarships are available to students pursuing a master's or doctoral degree in Germany. The support level of the scholarship is 850 euros (22 million VND)/month for 2 years for Master's program. Doctoral programs receive a support level of 1,200 euros (31 million VND)/month for 3 years for PhD programs.
In addition to funding living and study expenses, this scholarship also offers students the opportunity to participate in exclusive seminars, facilitated by renowned speakers and universities in their path of study. career and career. Besides, participating in the network of scholarship winners also brings many benefits to students in finding future job opportunities.
The scholarship will be given preference to candidates with an interest in politics, human rights and social issues. Students are required to have a German CEFR level 2 and not exceed 30 years of age at the time of application.
Study abroad in Germany
Currently, in addition to studying abroad at undergraduate and postgraduate levels, German vocational training is also receiving the attention of many young Vietnamese people. In addition to the benefits of regular study abroad programs, vocational students also receive many incentives from vocational schools in Germany.
What is German vocational training?
The German government stipulates that after graduating from high school, students will be able to participate in vocational training programs. Currently, about two-thirds of German vocational students choose the form of closed vocational training. The selection criteria for the dual training system depends on the student's learning ability.
When participating in the dual training system, students will be equipped with working skills of the profession they study. Then you get intensive training. Students will alternate vocational training at school and company. In the curriculum of the dual vocational training system, specialized subjects account for 60% and general subjects 40%.
Graduates of dual vocational training programs are most likely to find jobs immediately. According to a report on the dual training system of the German Federal Ministry of Education and Science, after 6 months of students graduating from the dual training system, about 60% of students have jobs with unlimited contracts. The contract term usually lasts from 3 to 4 years and can be extended depending on the wishes of the two parties.
Conditions for studying abroad in Germany
Unlike the usual form of studying abroad, the conditions for studying abroad in Germany are quite simple. As long as you meet the following criteria:
Age range: From 18 to 30 years old
Education: Graduated from high school in Vietnam, no specific score is required.
Health conditions: Good health, no diseases such as hepatitis, HIV and other infectious diseases. Have a health certificate as prescribed by the Ministry of Health.
Language ability: German A2 certificate. If you have a German degree of B1 or higher, you will be transferred directly to the vocational training major as soon as you arrive in Germany. Get paid internship and exempt from financial proof of study abroad if you have B1.
If only the A2 German certificate is available, students can register for a B1 course within 6 months in Germany. After achieving the B1 degree, you can start to learn a trade and practice for a salary as usual.
Students have a clear background, no criminal record.
What should study in Germany?
Nursing
Germany has one of the highest rates of elderly people in the world. The number of elderly people is increasing, leading to an increase in the demand for human resources in hospitals, nursing homes and medical centers. However, the number of qualified nurses in Germany is not enough to meet the demand. This situation has opened up opportunities for Vietnamese students who have been and are intending to study nursing in Germany.

Hotel and restaurant industry
Studying in Germany for the restaurant and hotel industry, students are not only equipped with professional knowledge but also have more cultural and historical understanding as well as valuable practical experiences. Germany is also one of the countries with a developed tourism industry. Therefore, more and more young people choose to study in Germany for the restaurant and hotel industry.
Graduates are awarded a hotel restaurant degree that is valid in Germany and Europe.
Ship driving industry
Boat driving is probably a relatively new profession for Vietnamese students. However, studying in Germany as a train driver will bring many job opportunities for young people after graduation. Most train driving schools are concentrated in Mannheim. Boat driving is one of the highest paying professions today. Normally, students after graduation can receive a salary of up to 3.000 Euro.
During your studies, the company will give you a Bahncard 100 to ride the train completely free of charge and support for the whole house. This profession is suitable for men who have good health and like to travel.
Mechanical industry, electronics industry
Germany is a powerhouse in pure heavy industries. Companies and businesses in Germany have a rapid expansion rate, making the situation of human resources in this industry always scarce. Many professions need qualified workers such as: mechanic, electrician, machine operator, automobile technician, etc. The mechanical and electronic industry is very suitable for students to study abroad in Germany. Because the training program is often closer to the job and more practical.
However, the number of enrollments in mechanical and electronic engineering is usually not much. Therefore, please pay attention to prepare your application early!
Here is some information about studying in Germany. The article gives you an overview of the topic of studying in Germany and studying abroad in Germany, as well as information about scholarships and study abroad conditions. If you intend to study abroad, especially countries in the European region, try to consider studying in Germany!
Related news