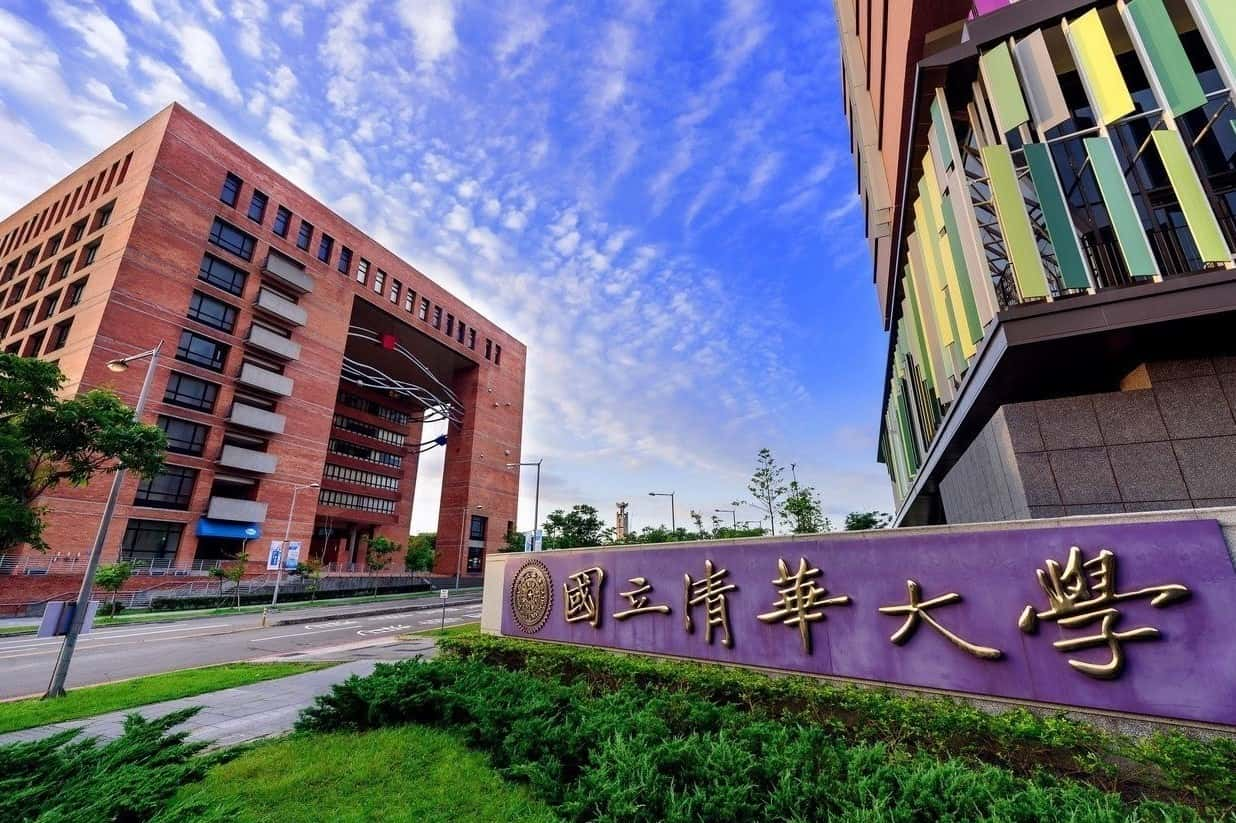 Tsinghua University ( National Tsing Hua University ) is known as one of the most prestigious universities in Taiwan. With outstanding achievements in education, Tsinghua University is the first choice of international students to study in Taiwan.
According to the QS World University Rankings 2017, Tsinghua University ranks 31st in Asia and 2nd in Taiwan (only after National Taiwan University). This national university is growing constantly and increasingly asserting its position on the educational map of East Asia and the world.
Must-see articles – Cost of studying in Taiwan
About National Tsinghua University
Overview of National Tsinghua University
Tsinghua University Full name is National Tsinghua University (National Tsing Hua University) was established in 1911. Over more than 100 years of operation, the school has trained many talented classes. Thanks to its outstanding teaching quality and great dedication to the education industry, the school has been named as one of the most prestigious universities in Taiwan.
General information about Tsinghua University
Year of establishment: 1911
Vietnamese name: National Tsinghua University
Chinese name: 國立 清華大學
English name: National Tsing Hua University
Address: No. 101, Section 2, Guangfu Road, Hsinchu City, Taiwan
Website: http://www.nthu.edu.tw
Since its re-establishment in 1956, Tsinghua University has grown to become a leader in quality teaching and research in Taiwan. The school always appears in prestigious rankings of the region and the world. Tsinghua University is recognized as a place to train talented leaders for society.
Many Tsinghua alumni have achieved remarkable career achievements. Among them are the Nobel Prize winners in Physics – Dr. Cheng-Ning Yang and Dr. Tsung-Dao Lee; Nobel Prize winner in Chemistry – Dr. Yuan-Tseh Lee; and the winner of the Wolf Prize in Mathematics – Dr. Shiing-Shen Chern,…
The outstanding alumni are the clearest proof of the quality and prestige of Tsinghua University.

Facilities at Tsinghua University
Tsinghua University is located in the beautiful city of Hsinchu in Taiwan. With a construction that is both classic and modern, the school is like an outstanding architectural work against the beautiful scenery of Hsinchu city.
Along with the top quality teaching, Tsinghua University's facilities are also focused on investment. The university has 21 dormitories with a capacity of up to 6.000 students. Currently, Tsinghua University has 7 colleges, 17 faculties and 22 graduate institutes affiliated to the university. Among them, the school's College of Nuclear Science is the only institution that offers education and research programs focused on peaceful applications of nuclear energy in Taiwan.
Currently, there are more than 12.000 students studying at all levels at Tsinghua University. In order to bring the best learning effect to students, the school's faculties are always fully equipped with the most modern and modern learning equipment. Tsinghua University campus is also built very spacious, integrating many utility areas such as canteen, gym, supermarket, etc.
The dormitory for distant students and international students of Tsinghua University is very comfortable and airy. The buildings are divided into male and female sections with tight security systems and appropriate fees. As a result, students have favorable conditions to study and live on campus.

Why should you go to Tsinghua University to study abroad?
National university offers multidisciplinary training with appropriate tuition fees
When studying in Taiwan in general and at Tsinghua University in particular, international students do not have to worry about tuition fees and accommodation costs. Although the school's reputation and quality are among the top in Asia, its tuition fees are very reasonable.
In addition, the school also offers a variety of training programs for students to choose freely. At Tsinghua University, you can find careers that suit your needs such as: Economics, Society, Education, Life, Science, etc.
Top quality, internationally recognized education
The educational environment at Tsinghua University is undisputed. The school has a team of talented teachers with many years of teaching experience. National Tsinghua University provides a rigorous training environment that always inspires students to learn. The school equips students with solid knowledge and skills to prepare them for future career challenges.
Modern, up-to-date facilities
Tsinghua University is invested in modern facilities and equipment to serve the learning and living of students. The school campus is spacious and airy with many facilities. Large dormitory with high security system helps students feel secure to live and study at the school. In addition to focusing on theoretical training, the school also equips practical and experimental rooms for students to apply the knowledge they have learned.
The school ranks high in national and international rankings.
In 2012, Times Higher Education ranked National Tsinghua University at 226-250 in the world rankings.
In 2010, QS World University Rankings National Tsinghua University ranked 196th.
High-ranked subjects at Tsinghua University include Arts and Literature, Mechanics and IT, Life Sciences and Biomedicine, Natural Sciences, and 256th in Social Sciences.
Nature Publishing Index ranks National Tsinghua University 3rd in Taiwan.

Training majors and tuition fees at Tsinghua University
The training disciplines
Tsinghua University has a variety of training programs and professions for students to choose from. The majors at Tsinghua University include:
School of Humanities
Chinese Language and Literature
Philosophy
History
Foreign Languages ​​and Literatures
School of Social Sciences
Sociology
Psychology
Political Science
International relationship
Institute of Economics
Institute of Science, Technology and Society
School of Economics and Management
Accountant
Economics
Finance
Marketing
Management Science and Engineering
School of Science and Information Technology
Electronic Engineering
Microelectronics and nanoelectronics
Computer Science and Technology
Software
Information Technology Research Institute
Academy of Art and Design
Art history
Industrial design
Communication design images
Textile and Fashion Design
Art & Design Info
Arts and Crafts
School of Civil Engineering
Civil Engineering
Construction management
Hydraulic Engineering
At Tsinghua University, international students can study English-taught programs such as:
Anthropology, astronomy
Bioengineering (biomedical)
Bioengineering & environmental science
Chemical engineering, physics, communication engineering
Electronic engineering, computer science
Health Sciences, Economics, MBA, IMBA
Language & literature, social sciences and humanities
Optical technology, design & art…
Tuition
University
Specialized
Tuition
Science, engineering, life science, nuclear science, electronics, engineering & computer science, arts, Hsinchu teacher (including special education)
Tuition fee NT$39,990
Surcharge NT$13,210
Humanities & Social Sciences, Technology Management, Interdisciplinary Tsing Hua, Teacher Hsinchu (excluding special education)
Tuition fee NT$38,340
Surcharge NT$7,760
Other fees
Housing NT$6.370 ~ 16.660
Books (per term) NT$5.000 ~ 10.000
Living NT$8.000 ~ 15.000
Postgraduate system
Majors
Tuition
Science, engineering, life sciences, nuclear science, electronics, engineering & computer science, arts, Hsinchu teachers (including special education & education in physics, math & science education), art, global management
NT $ 33,000
Humanities & social sciences, technology management, Hsinchu teacher, MS program (Chinese teacher)
NT $ 26,300
Other fees
Housing NT$10,170 ~ 27,800
Books (per term) NT$5,000 ~ 10,000
Living NT$8,000 ~ 15,000
Scholarship program and admission conditions at Tsinghua University
Scholarship Program at Tsinghua University
First-year college entrance scholarship
Condition:
Newly admitted students have a total score of 60 points in four subjects.
According to the combined subject test designated by the Ministry of Education (Bachelor's Class), the initial score of each subject reaches the top 1% of the nation.
Students have participated in international Olympic competitions.
Scholarship amount: 100,000 NT$
Students will be exempted from annual tuition and some other fees.
Jinlianyi Alumni Scholarship
Condition:
For students of: science, engineering, science and technology, arts with a score of 74 or higher, excellent academic achievement.
Scholarships for bachelor's programs.
A scholarship of NT$100.000 will be awarded during the semester of enrollment.
Wu Dazhao Scholarship
Condition:
Students participate in international olympic competitions
Based on the results of the assessment of English ability
Students must achieve excellent academic results in the top 20% in the previous semester.
Scholarship level: 10,000 NT$/month.
If students maintain good academic performance, students will receive scholarships for 4 years.
Zhuqing Chemistry Education and Culture Scholarship.
Condition:
Students with outstanding academic achievements, ranked at the top of the class.
The scholarship is worth NT$60,000.
Admissions
Have good health.
Have a high school diploma if you want to pursue a bachelor's degree.
Have a bachelor's degree if you want to go to graduate school.
Have a Master's degree if you want to study PhD.
Admission periods
Every year, Tsinghua University has two main intakes, spring and autumn.
The fall semester admission dates are as follows:
Bachelor Degree: November 15 – February 11
Postgraduate level: 1/1 – 16/3
Spring semester has the following admission times:
Bachelor Degree: November 15 – February 8
Postgraduate level: 15/8 – 15/10
What should I study abroad at Tsinghua University?
Chinese
Chinese is considered a difficult language to learn but is very popular. The key to effective Chinese learning is regular practice. It is also the fastest way to learn a new language. Teachers, classmates, most importantly, the learning environment will affect learning outcomes. Therefore, besides learning Chinese right in China, many people choose Taiwan because it provides students with a freer learning and living environment while still living in the Chinese-speaking community. native.
In addition, Taiwan's Ministry of Education (MOE) offers an annual scholarship for students who want to study Chinese. The scholarship program is applicable for short courses and language courses lasting 12 months.
Tsinghua University College is the perfect choice to study Chinese. The Chinese language department of the school has outstanding training quality, with a modern and highly applicable curriculum. After being confident with their foreign language ability, many international students have continued to choose to continue their bachelor's or master's programs at this university.
Business administration
Countries with developed economies mostly have high-quality human resources. Taiwan is also a place with the most dynamic and developed economy in Asia, so the quality of business administration training here is also outstanding. This is a major that has the ability to bring open job opportunities not only in Taiwan but also in many other countries around the world.
Besides that. Taiwan is a market that attracts a large number of foreign investors, so the business administration industry here is taught very intensively and is regularly renewed and improved to bring the best quality of education.
When studying business administration at Tsinghua University, students will learn in an educational environment that focuses on self-study and practice. Therefore, skills will be continuously reinforced during the learning process. After graduating from Tsinghua University in Business Administration, international students will possess practical skills that are useful for future jobs.
After graduating from business administration, students can work for Taiwanese companies investing in Vietnam in positions such as managers, department heads, shift leaders, etc. Not only that, after accumulating With a few years of experience, you absolutely have many job opportunities with attractive salary.
Science and technology
Taiwan is known as the world's leading supplier of computer chips, smartphones and GPS devices. Up to 80% of electronic equipment and technology originate from Taiwan. Science and technology is a discipline that never goes out of fashion, on the contrary, this is also considered the discipline of the future.
In this industry, countries need the support of science and technology in all fields. Therefore, studying in Taiwan science and technology is a wise choice for you to have an open career future.
At Tsinghua University, students majoring in science and technology can study with their own facilities for practice and research. The curriculum is developed and updated continuously. In addition, the school also cooperates with businesses to provide attractive and practical internship opportunities for students.

Information Technology
Taiwan is known as one of the four "dragons of Asia" which is a testament to the country's outstanding economic development. It has a system of modern facilities and equipment and the most modern information technology. With the continuous development of the information technology industry and the great demand for high-quality workers, Taiwan is the destination for those who love and want to develop a career in the information technology industry.
Therefore, choosing to study information technology at Tsinghua University is the right choice. Because after graduating from a university in information technology, you absolutely have the opportunity to apply for jobs in large corporations with extremely attractive salaries.
Technology
Taiwan owns many leading technology companies such as ASUS, ACER, INC, etc., so this is the ideal place for you to study engineering. Engineering students have more practice time than theory. Right from the first year of university, engineering students have been exposed to real work. By the end of the year, the 2 students were given the opportunity to experience at many large enterprises in Taiwan. Not only that, after graduating, most engineering students find jobs right away because the demand for human resources for the industry is very large.
At Tsinghua University, students will study with good quality facilities and modern equipment. The school offers a highly practical training program. An international quality educational environment is a perfect choice for young people who love engineering.
After graduating from engineering / electronics, students can take on positions such as: Operation and maintenance engineer, electrical automation engineer, project leader, Mechatronics, electronics and telecommunications ... A number of excellent and highly skilled students after graduating from Tsinghua University are also sought after by domestic and foreign employers.

Related fields