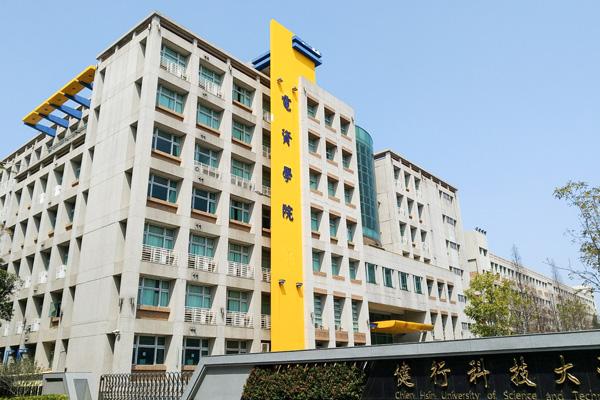 Kien Hanh University is a science and technology training school familiar to Taiwanese students. Kien Hanh University is also known as a typical Taiwanese school that has been applying technology in vocational training very advanced and professional.
Kien Hanh University of Science and Technology (UCH) is not only famous for its beautiful, spacious campus and modern facilities. The school is also located in the beautiful city of Taoyuan, Taiwan. Coming to Kien Hanh University, students have the opportunity to visit the breathtaking sights of Taiwan such as the ancient cypress forest, the stunning elevated walkway, Window On China amusement park, etc.
Articles to see: Taiwan Study Abroad Scholarship
About Kien Hanh University
Overview of Kien Hanh University
Kien Hanh University's full name is Kien Hanh University of Science and Technology. The school was formerly known as Fa-rectification University and Chien Hsin Industrial College. The school was established in 1966. In 2003, the school was approved by the Ministry of Education of Taiwan to officially operate with the position of a university and its current name.
Kien Hanh University sets a long-term goal to focus on three areas: automation, telecommunications and Internet technology. Since its establishment until now, the university has always strived to become a leading university in electronic technology. The curricula at the University of Science and Technology are flexible but still fully meet the standards prescribed by the Ministry of Education. Đại Loan.
Kien Hanh University advocates combining teaching of theoretical foundation knowledge with experimentation and practice and project work. As a result, students of Kien Hanh University are trained in working skills and respond quickly to market changes.
General information
English name: Chien Hsin University of Science and Technology (abbreviated UCH)
Vietnamese name: Kien Hanh University of Science and Technology
Chinese name:
Address: No. 229, Jianxing Road, Zhongli District, Taoyuan City, Taiwan
Year of establishment: 1966
Website: http://aps2.uch.edu.tw
Facilities of Kien Hanh University
Jianheng University of Science and Technology is very famous for its most beautiful campus in Taiwan. The beauty of this ancient school is reflected in the buildings with unique architecture. Everywhere is covered with trees and green grass. The entire campus is open space to give students a wonderful fresh learning environment.

The school also has a full range of facilities to serve the learning and living needs of students and lecturers such as:
Restaurant: Most students at Kien Hanh University often eat at school. Because there are many restaurants in and around the school. In addition, Kien Hanh Technical University also focuses on food quality, safety and hygiene to ensure the health of students.
Dormitory: Kien Hanh university students can live in the school dormitory to facilitate their study. Dormitories are located near the school, divided into two zones for boys and girls. Rooms at the dormitory of Kien Hanh University are fully equipped with very modern facilities.
Facilities for recreation and sports: Kien Hanh Technical University encourages students to participate in healthy recreational and fitness activities. Right on campus, students can use facilities such as multi-function stadium, indoor gym, table tennis room, sports field, entertainment room, etc.
Why should you study abroad at Kien Hanh University?
Currently, Kien Hanh University is a name that is no longer strange to Taiwanese students. Especially for students majoring in science and engineering. The educational program at Kien Hanh University is outstanding for its flexibility and application of scientific and technological advances to teaching.
Students not only learn the basic theory of the subject, but the faculties and departments of the university also regularly organize experimental teaching. To help students acquire knowledge in a more comprehensive way. Besides, the school also actively supports students to find internship opportunities and participate in research projects.

The school's efforts are all about equipping students with a solid foundation to respond to the rapidly changing industry and job market after graduation.
During its operation, the school has achieved a number of remarkable achievements such as:
For many years, Jianxing University has been honored with an excellent teaching grant from the Ministry of Education of Taiwan.
The university is rated as an A-class university. From 2015 to 2017, the university ranked first in the Taoyuan - Hsinchu - Miao Li region. This is also the only school with a green model in the northern region of Taiwan.
The school always strives to expand its network of links to bring more exchange and internship opportunities for students. Up to now, the university has cooperated with 10 countries and more than 40 other universities.
Many students studying at Kien Hanh University have participated in many international competitions and won high prizes.
Majors of training at Kien Hanh University
Kien Hanh University of Science and Technology currently has 12 faculties with different departments. The school offers a wide range of training in various fields from Engineering to Business, Management and Finance, Banking, etc.
Courses at Kien Hanh University:
College of Electrical Engineering and Computer Science includes majors: Electronic Foundations, Electrical Engineering Science, Department of Computer Science and Information Engineering, Department of Applied Geomatics.
Technical College includes majors: Mechanical Engineering, Department of Construction.
College of Management includes majors: Department of Management Information, Faculty of Business Administration, Department of Technology and Industrial Management, Department of Marketing and Distribution.
College of Commerce includes majors: Faculty of International Business Administration, Department of Finance and Banking, Department of Applied Foreign Languages.
The Academy includes majors: Mechanical, Electrical Engineering, Electronic Engineering, Information Management, Center for Asian Studies, Management, International Business Administration, Geophysics, Engineering and Environment , academy of Communications, Computers and Systems Engineering, Computer Science and Information Engineering, Finance and Banking, Engineering Science and Technology.
Training Programs and Degrees
Kien Hanh University has flexible training programs to suit the needs of students. Typical programs at the school include:
2-year program: This is a training program for students who already have a College degree. To participate in this program, students need to pass an entrance exam. The training program has 72 credits, students will be awarded a bachelor's degree after the course.
Higher Education Program: The undergraduate program is the most typical educational program of Kien Hanh University. Students will complete 136 credits within 4 years.
Master's Program: Students need to have a Bachelor's degree and pass an entrance exam to be able to join this program. Students need to complete 24 credits to be awarded a master's degree.
Special foreign language program: In addition to the usual training programs, Kien Hanh University also offers foreign language courses. Students can choose from international languages ​​such as Chinese, English, Russian, Spanish, German, Japanese.
Professional Engineering Program: This is a professional engineering education and certification program to help students find a specific job. These programs vary in length, ranging from a week to a year.
Related fields