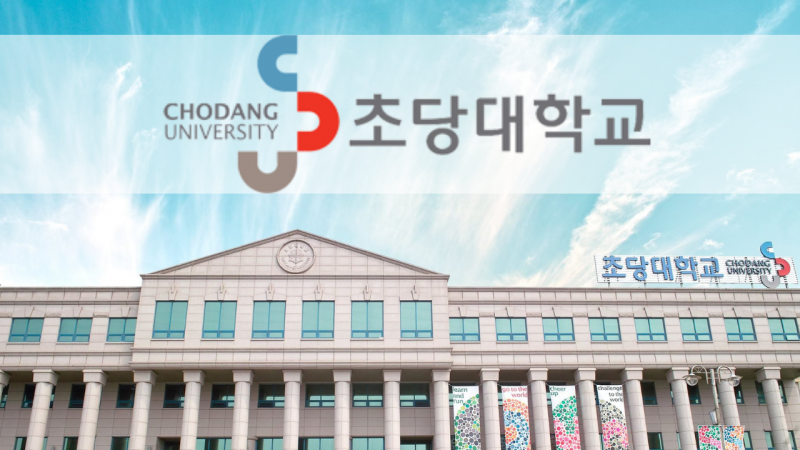 Chodang University is one of the famous aviation training schools in Korea with the highest employment rate of graduates in the land of Kim Chi. Today's article will help readers understand more about the training majors, tuition fees and many interesting information surrounding Chodang University.
1. Information about Chodang University
School name: Chodang University (CDU)
Korean name:
Type: private
Year of establishment: 1994
Address: 380 Muan-ro, Muan-eup, Muan-gun, Jeollanam-do, South Korea.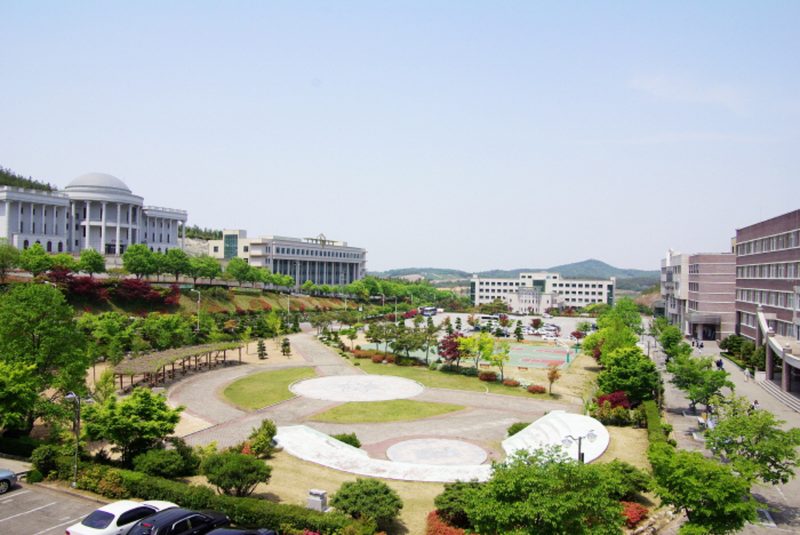 Established in 1994, Chodang University operates based on the educational motto "Educate students with all your heart", up to now, that motto has remained unchanged. Despite its relatively young age, Chodang University has proven its educational quality through training generations of excellent students.
Chodang University is located in Jeollanam-do, Korea - which is known as the cultural center of the region with its geographical location adjacent to the China-Korea International Industrial Park and the Muan District Aviation Industry Park. International students studying at Chodang University will have the opportunity to access many regions with developed economies.
It is not natural that Chodang University's graduate employment rate is at the top of the country. Along with the school sessions, Chodang University also offers many internationalization programs to equip students with necessary knowledge and skills such as international volunteer programs, foreign training courses. language,…
In particular, Chodang University has established the Institute of Aviation Education at Muan International Airport with a training program of international standards and the most modern technical equipment in the world. This is the first time a Southern Regional University has managed an aviation education center.
2. Training program at Chodang University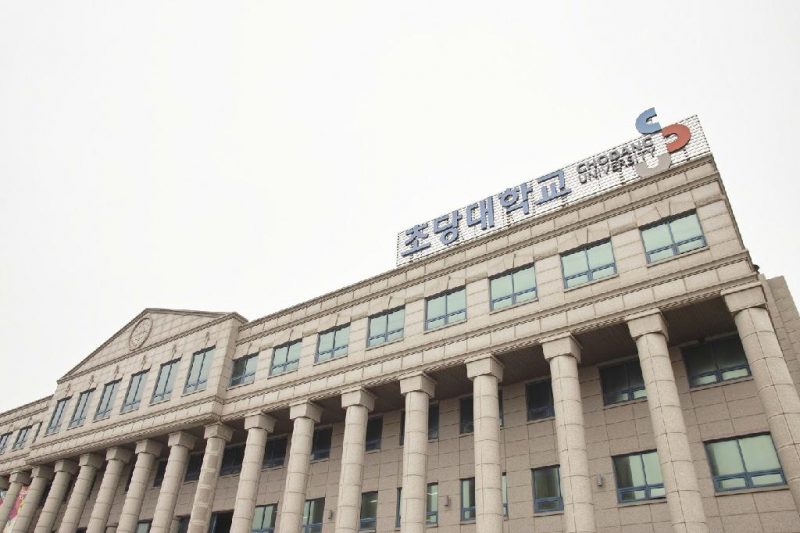 2.1. Korean language training program
Like the Korean language programs at many other colleges/universities in Korea, Chodang University offers Korean language courses for those who wish to study abroad for a university major in Korea but have limited Korean language skills. or those who want to learn the culture and life in Korea through 1 year of learning Korean.
A year of Korean language study at Chodang University consists of 4 small semesters (spring, summer, autumn, winter) with 4 admission periods respectively in March, June, 3, and December. One semester lasts about 6 months. week (approx. 9 hours). The number of students in each class should not exceed 12 people.
The course is divided into 6 levels (from basic to advanced), students will learn Korean vocabulary, grammar and 4 skills of listening, speaking, reading and writing. In which, lecturers will focus on training students' communication ability to help them quickly get used to life and learning environment in Korea.
Besides formal classes, Chodang University also offers extra classes such as: TOPIK exam preparation, Korean listening practice, .... In addition, students will have the opportunity to learn about Korean culture, history, and cuisine through field trips (visiting museums, historical sites, ...) and cultural competitions. Korean (cooking, music, ...)
Tuition fee for Korean language program at Chodang University: 3.600.000 KRW / year.
2.2. Undergraduate training program at Chodang University
Besides aviation, Chodang University has many attractive majors waiting for international students:
Aviation sector (tuition: 7.540.000 KRW / year)
Aircraft Operation
Aircraft maintenance
Flight attendant
Unmanned aircraft system
Medical and Health Sector (tuition: 6.664.000 KRW / year)
Medical Management
Nursing
Dental hygiene
optics
Make up
Public Administration (tuition: 5.618.000 KRW / year)
Military
Cop
Fire protection
Natural Sciences and Engineering (tuition: 6.664.000 KRW / year)
Architecture and Construction Engineering
Information Technology
Culinary arts
Arts and Physical Education (tuition: 5.618.000 KRW / year)
Kumdo
Physical education
Music app
Humanities and Social Sciences (tuition: 5.618.000 KRW / year)
Social Welfare / Child and Adolescent Counseling
Management
International Studies
2.3. Master's Degree Program at Chodang University
Masters programs:
Nursing
Welfare
Culinary arts
optics
Physical education
Administration
International Studies
Doctoral Program:
Welfare
Social physical education
3. Admission requirements at Chodang University
3.1. Conditions for studying Korean language program
Education level: graduated from high school (or have a provisional certificate of graduation) with a GPA of 6.0 or higher.
Does not require TOPIK
3.2. Conditions for studying undergraduate programs at Chodang University
Education level: graduated from high school (or have a provisional certificate of graduation) with a GPA of 6.0 or higher.
TOPIK 3 and above
3.3. Conditions for studying a graduate program
Educational Qualification: Bachelor's Degree (Master's Degree), Master's Degree (PhD)
TOPIK 4 and above
4. Scholarship Program at Chodang University
4.1. Welfare Scholarship
Labor scholarships, Chodang scholarships: depending on the year
Family scholarship: with more than 2 members of a family studying at Chodang, the third member or later will receive a 3% discount on tuition fees.
4.2. Specialized scholarships
Physical Education Major Scholarship, Military Trustee Scholarship, High Functional Training Scholarship, Contribution Scholarship: depending on the year.
Chodang Talented Student Scholarship: worth 50.000 – 60.000 KRW / term
4.3. International Scholarship
Student exchange scholarships, study abroad scholarships, international training scholarships, international service training scholarships: depending on the year.
4.4. Scholarship for freshmen
Chodang Leadership Scholarship: support for foreign language training (4 weeks) and 100% tuition fee waiver for 1 year
100% tuition fee waiver for 2 years of study: achieve B level in CSAT
100% tuition fee waiver for 3 years of study: achieve A level in CSAT
100% tuition fee waiver for 4 years of study: achieve S level in CSAT
4.5. Achievement Scholarship (from 2nd semester onwards)
10% tuition fee waiver: achievement at C level
20% tuition fee waiver: achievement level B
50% tuition fee waiver: achievement at level A
100% tuition fee waiver: achievement at SHOULD level
5. Dormitory system at Chodang University
Chodang University consists of 2 buildings for boys, 2 buildings for girls and 1 function building with modern design and fully equipped to serve the learning process of students.
6. 7 attractive destinations that should not be missed when studying in Jeollanam-do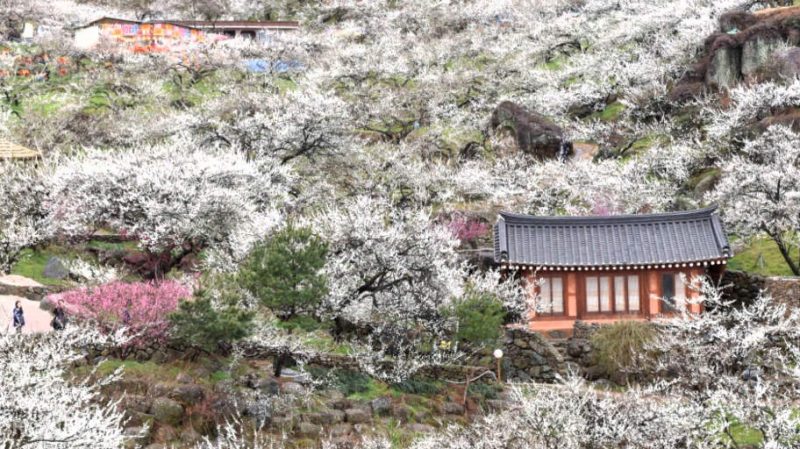 6.1. Mokpo
Mokpo is a coastal city, located at the southwestern tip of the Korean peninsula. This is a major commercial port, playing an extremely important role in the development history of Korea.
Mokpo is famous for its fresh and attractive seafood, especially fish. So, do not forget to visit the seafood restaurants when you have the opportunity to come to Mokpo city. Other popular tourist attractions in the city include: Yudalsan, Gatbawi Rock and the Mokpo Museum of Modern History.
6.2. Maehwa Village (Seomjin) in Gwangyang
Although this village looks relatively ordinary during most of the year, it becomes majestic when the plum blossoms (Maehwa) begin to bloom. They appear just before the cherry blossoms arrive. During this time, Seomjin village becomes bustling with the Maehwa festival.
6.3. Gurye District
Gurye is filled with the peaceful beauty typical of the Korean countryside. In fact, Gurye district is also not in the remote countryside, it is only about an hour's drive from Suncheon city. Gurye District is best known for its Sansuyu (Cornus) Flower Festival in spring, so it would be a great time to visit.
The Sansuyu Flower Festival takes place around mid-March near Jiri Mountain and features a variety of programs such as music performances, product display events (including an exhibition of local products made from sansuyu), and fireworks. .
Tourists can also visit other sites such as Hwaeomsa Temple and Sae Seongnam in Gurye.
6.4. Jindo District
Jindo District consists of an island that can be reached by a combination of transportation such as car or bus and train from cities such as Mokpo, Seoul, and Gwangju. This is also the birthplace of the Jindo breed. In addition, this place is also famous for the "Parting Festival" on the Jindo Sea.
Every year, thousands of tourists and locals flock to Jindo to participate in this festival. The main event is to walk the 2,9 km path from Jindo Island to Mudo Island after the sea level drops to clear a road. Really great to walk on the road that used to be the bottom of the sea.
However, you will have to bring or buy soldering equipment as there is quite a bit of mud along the way. The sea division happens twice a day so there are also alternate events such as shows to keep visitors engaged.
6.5. Seomjin River Boat Village in Gokseong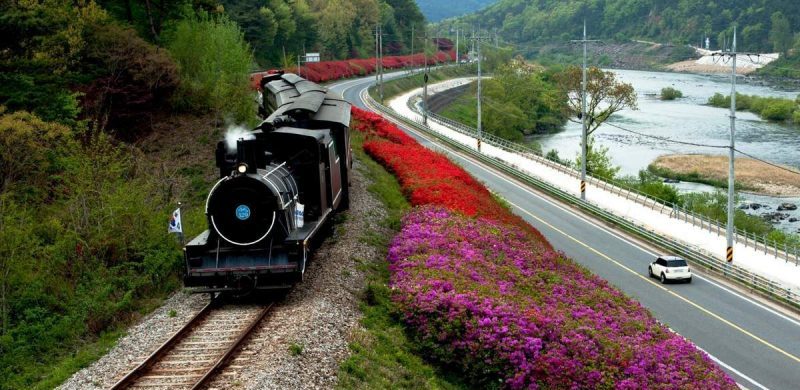 This village, also known as Gokseong Train Village, is located in Gokseong District. It was very pretty and looked like the scene printed on a postcard.
The main attraction of this village is a steam train that was used in the past. The best time to visit this place is when the flowers bloom. Other nearby places in the district that you can visit are the beautiful Taeansa Temple, Neungpa Tower, and the valley of Mount Dongli.
6.6. Damyang District
Damyang District is located just north of Gwangju, famous for its Juknokwon bamboo forest. In fact, several Korean dramas have been filmed here, so if you are a fan of Korean movies, you must definitely visit this place.
Juknokwon is a perfect place to be in nature and soak up the fresh air. There are many paths for visitors to explore inside the bamboo forest, moreover, there is an art museum in the forest, where there is a shop selling bamboo ice cream.
You can also visit other places in Damyang such as Korean Bamboo Museum, Gwangbangjerim forest, Geumseongsanseong Fortress, etc.
6.7. Gwangju
Gwangju is the sixth largest city in South Korea, the largest and only city on this list. This is the home of BTS's main dancer J-hope and many other K-pop idols, but its appeal doesn't stop there.
The city has many factors to attract tourists. Football fans can visit the World Cup Stadium in the city. Foodies can try a variety of Korean dishes while exploring dozens of food streets in the city. And tourists who want to learn more about the history of Jeollanam-do can visit the Gwangju National Museum and the National Cemetery May 18.
With the quality of education proven by the quality of its graduates, Chodang University is the first choice of study abroad for those who like the living environment in the Korean countryside.
Related fields