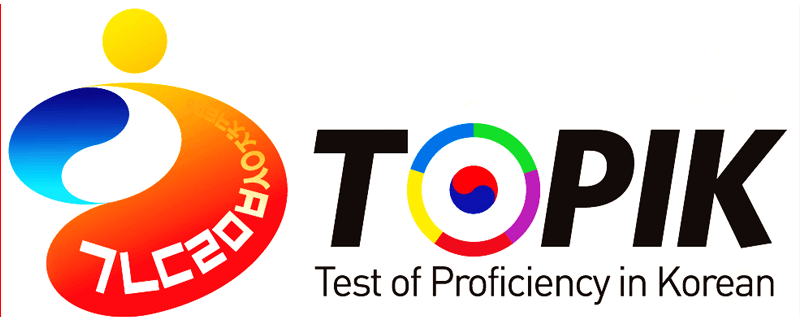 Are you planning to get TOPIK certification? If you are interested in learn Korean or South Korea to study, you may have heard the word TOPIK a few times. But what exactly is a TOPIK degree? And should you care about it?
All your questions will be answered in this article.
What is TOPIK certificate?
TOPIK stands for "Test of Proficiency in Korean", roughly translated as "Test of Korean language ability". This Korean certificate is held several times a year. Exactly six times.
The purpose of the TOPIK Korean certificate is for non-native speakers to test their Korean language skills. TOPIK certification is administered by the National Institute of International Education – NIIED for short. This is a branch of the Korean Ministry of Education.
TOPIK degree is most popular for foreigners who want to find professional work at companies in Korea, or foreigners who want to get a visa to reside in Korea, bring their family to Korea or other foreign countries. other equivalent reasons.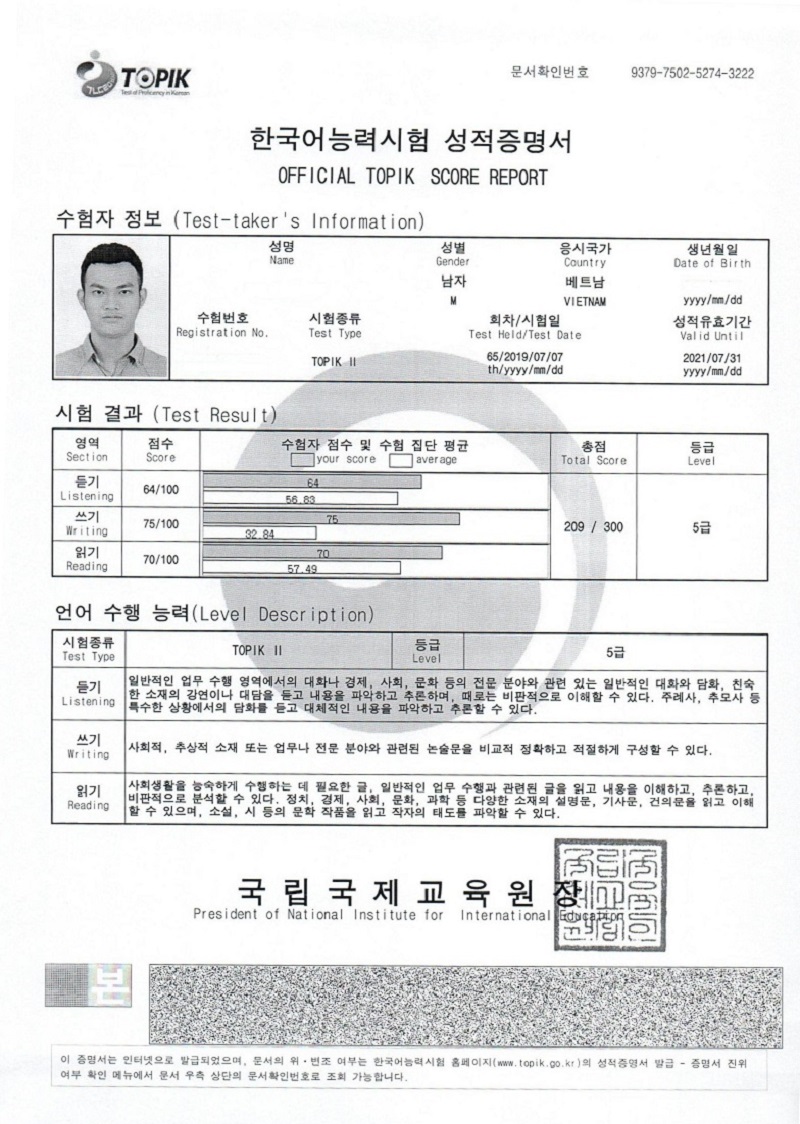 If you are a Vietnamese student, you can use your TOPIK diploma to apply for admission a university in Korea. It usually takes several weeks from taking the test to knowing the results. Results are usually announced on the official website. TOPIK Korean certificate is valid for two years.
Previously, TOPIK certification had three levels: beginner, intermediate and advanced. The test consists of four different sections: grammar + vocabulary, listening, reading, and writing.
However, TOPIK has changed to a new format, starting from July 7. Currently, TOPIK Korean certification has only two levels, TOPIK I and TOPIK II. TOPIK I is equivalent to beginner level (level 2014 and level 1) in the old format and TOPIK II includes both intermediate and advanced level (level 2 to level 3) in the previous format.
Now, for TOPIK I, the test has only reading and listening sections. TOPIK II includes reading, listening and writing. The grammar + vocabulary part has been completely removed.
To get TOPIK I level 2 certificate, you must understand simple everyday conversations, be able to make simple sentences and complete some routine tasks in Korean.
Meanwhile, to get the TOPIK II highest level, you must be able to use Korean in professional work, research environment, understand a variety of ideas and expressions, as well as be able to understand Complex topics such as economics, politics, etc.
How long does the TOPIK test take?
TOPIK I exam time lasts about two hours. As for TOPIK II, the exam time is up to three hours because of the Korean writing section.
Important points in TOPIK
TOPIK I
Each section of the test is worth 100 points. You need to score at least 80 points to get TOPIK I. To get to level 2 you will need at least 140 points.
TOPIK II
You need to get at least 120 points to get the TOPIK II degree. And to reach the top level, you have to get at least 230 points.
How to register for TOPIK Korean language test?
If you are in Korea at the moment, you can register for the TOPIK exam at the official website (https://www.topik.go.kr/). Because there are many venues for the event, you should choose for yourself the most convenient one for you.
Also, make sure you regularly check the above website for the official registration date and required forms. The fee is 35.000KWR (634.000VND) for TOPIK I and 40.000KWR (725.500) for TOPIK II.
You can pay the signing fee by debit/credit card or bank transfer. In addition, you will need to paste a photo of yourself on the exam application form.
If you are in Vietnam, you should go to the Korean embassy or Korean cultural centers to register for the TOPIK certification exam. Their website usually displays an official notice of the exam registration date. In addition to the application fee, you will also need to bring two passport-sized photos.
Whether you are in Korea or Vietnam, TOPIK is always deployed offline. You cannot take the test online at this time.
TOPIK exam schedule in 2022
From 2021, the Korean government has announced the dates you can apply for the TOPIK certification exam. If you plan to take the test in Vietnam, contact the Korean embassy or test support service providers in your area for exact registration dates and other information.
If you plan to get your TOPIK degree in Korea this year, you can rely on the schedule below:
| Test month | Registration date |
| --- | --- |
| May | February 8 to 14 |
| May | February 8 to 14 |
| May | February 24 to 30 |
| May | February 2 to 8 |
| May | February 6 to 13 |
TOPIK exam fee
The price to take the TOPIK Korean-only test depends on where you're taking the test and the level you're aiming for. In Korea, the cost to take the TOPIK I exam is usually around 40.000KRW (723.000 VND). And TOPIK II is usually 55.000KRW (994.500VND).
How to prepare to successfully receive TOPIK certificate?
Usually, many people study and practice on their own to prepare for the TOPIK exam. Of course, taking a Korean class will always help improve your Korean skills and level faster.
Korea Immigration Integration Program (KIIP)
If you are in Korea, you can apply to study at a language school or at the KIIP program. KIIP is completely free. But you have to take an exam to place your own class. In fact, most learners here take the test first and then enroll in the KIIP program using their grade point average to be placed in an appropriately qualified class.
An official Korean language school like KIIP can provide you with a good learning environment. However, compared to the volume of courses, KIIP is still not as good as a language school.
Take a Korean class
If you are in Vietnam, you can find an offline class or use many online resources to practice for TOPIK.
If you're learning face-to-face, you can practice anywhere through a browser like Chrome or by downloading a Korean learning app. Try to practice in a happy and stress-free mood.
TOPIK . books and mock tests
Finally, you can buy a book that specializes in TOPIK and find a website with mock exam content. TOPIK books often come with practice tests based on the way the test is created. Alternatively, you can find an online site with old tests that you can print out and try. There is even a website that specializes in collecting previous TOPIK tests that you should check out.
---
Because the TOPIK certification exam is often quite complex, it tends to be more about academic topics and materials than what you need to know in your daily life, it is recommended that you read up on some of the materials. exclusively for TOPIK during exam preparation even if you have taken a Korean class before.
In addition to books and websites that specialize in TOPIK, you should listen to Korean often. There are many ways for you to achieve that, such as watching Korean movies, reading Korean newspapers, listening to K-POP music, etc.
Tips for effective TOPIK exam preparation
Clearly define your TOPIK exam goals. Take a mock test to see how far your Korean is to know if you should take the TOPIK I or the TOPIK II.
TOPIK I is not too difficult. This is the most basic level. Just by carefully studying the sentence structures and examples in the basic greetings, you can completely grasp this TOPIK certificate.
Practice by practicing solving the most recent TOPIK exam questions. You should start with elementary level topics. You don't have to understand Korean in depth. Just master the basic parts and you can practice solving TOPIK problems.
Master your test-taking skills. Focus on completing the sentences you can do first.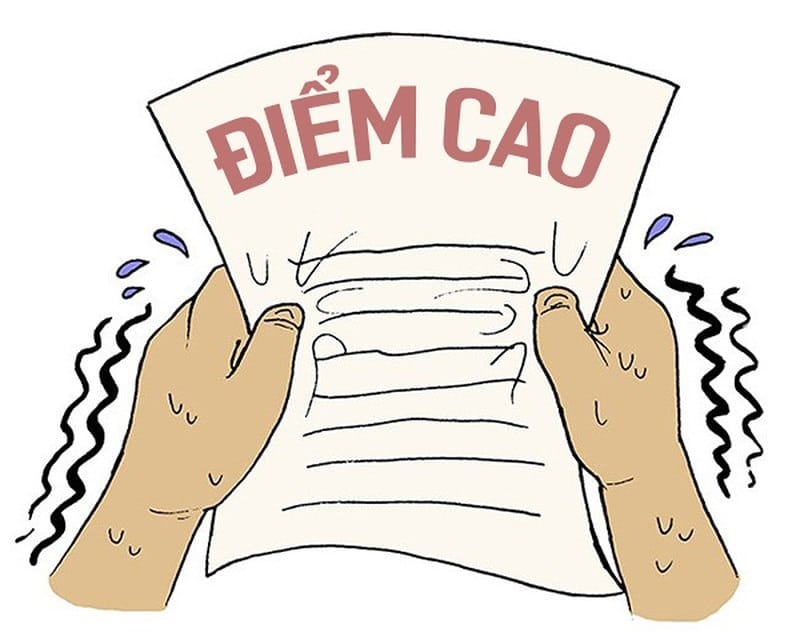 Work hard to learn vocabulary. If you are practicing for the TOPIK II certificate, you should review and master the vocabulary because in the test will use a lot of advanced words.
You can practice listening to Korean through Korean movies, game shows, and songs. Let's start by practicing listening without subtitles. If you don't understand, try to guess through the context of the movie.
Register for exam preparation at reputable centers. If you find it too difficult to study for the TOPIK exam by yourself, you can completely enroll in classes. The instructors will systematize for you the most important and common knowledge in the exam.
Should you take the TOPIK certification exam?
The answer to the above question completely depends on your goals! You can take the TOPIK exam even if you are not residing in Korea. Also, there are different test dates to choose from, so scheduling shouldn't be an issue. And most importantly, taking the TOPIK exam is not too expensive. So you won't lose too much if you try once.
There are many reasons why you should seriously consider taking the TOPIK Korean language certification exam. Firstly, having a TOPIK degree will help you easily get into a good Korean university. In addition, you will also be exempted from taking additional Korean language classes before starting your major studies. In addition, if you go to a Korean university, you usually need a TOPIK certificate to graduate.
In addition, having a high-level TOPIK Korean certificate will also help you easily find a job at good Korean companies. Finally, you may get priority when applying for a residence visa in Korea!
Interim
Now that you know what a TOPIK certificate is, are you planning to enter this contest? Have you taken the TOPIK test before and are you satisfied with the score you received? What makes you want to take the TOPIK exam? Let us know the answer in the comments section below!
Related news