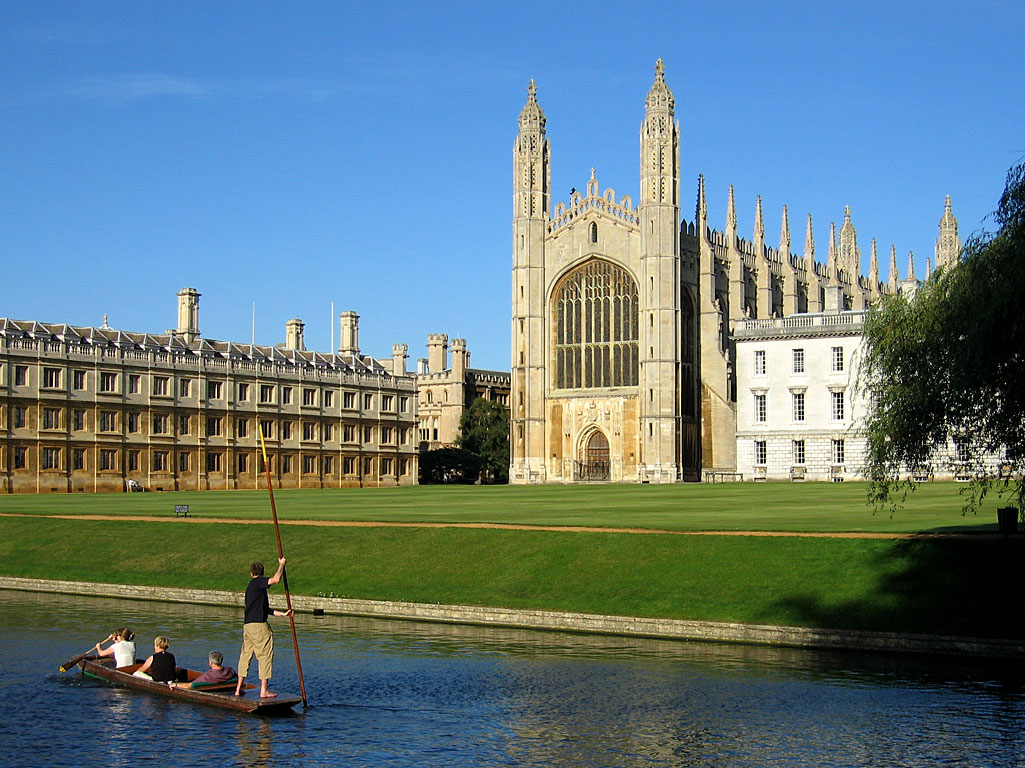 Cambridge university has long been the dream school of millions of students around the world. Always in the top of the best schools globally. Along with the admirable achievements that the school has achieved during its operation. Let's learn about this top UK school through the article below!
Brief information about the University of Cambridge
About the city of Cambridge
Cambridge University is located in England. This is a large town in Cambridgeshire, only about 80km north of London. Cambridge is not a very large city with most of the schools and faculties located close to each other. There is a bus service connecting schools for students to conveniently travel. Cambridge has a reputation as one of the friendliest and cleanest cities in the country.
Although it is a small town, Cambridge has 4 main airports: Stansted, Luton, Heathrow and Gatwick. From Cambridge, you can easily go to London in just 1 hour by train. Thanks to convenient transportation, international students at Cambridge do not need to worry about moving when studying here.
Cambridge is also famous for its ancient architectural beauty, the serenity of nature as well as the gentle, unhurried pace of life. Here, students have the most ideal conditions to focus on their studies and research. The city is also known as a university city, home to more than 100 teaching faculties with 17.000 students.
The city of Cambridge is located in the heart of England with a mild and pleasant climate. The average summer temperature here is only about 22 degrees Celsius. However, winter in Cambridge is also quite cold as typical of European weather with temperatures can drop to 0 degrees Celsius.
About Cambridge University
Cambridge University, also known as Cambridge University Institute, English name is University of Cambridg. The University is a joint public research university in the UK. Cambridge University was founded in 1209. With its rich history, Cambridge University is proud to be the second oldest English-speaking university in the English-speaking world, after Oxford University.
Cambridge University consists of 31 member universities with more than 100 academic departments divided into 6 schools. The university's member schools are self-governing institutions and are constituent parts of the university of Cambridge. The schools operate independently of each other but are still part of the University of Cambridge.
Member universities will be responsible for their own lecturers and regulations on research students for each subject. At the same time, each school also selects its own students and is responsible for its internal management and welfare policies for students and staff.
Member schools are located at various locations in Cambridge. However, the distance between the schools is quite close to each other and it is very convenient for moving back and forth. It can be said that Cambridge University has created a famous Cambridge city all over the world. Or rather, when mentioning Cambridge, people will immediately think of Cambridge University and vice versa.
In addition, Cambridge University is also famous for its huge library system with 114 libraries. The number of titles is more than 15 million books. The main library of the school is home to more than 8 million books. In addition, the school also has 9 art, science and culture museums that are open all year round for the public to visit. The school also owns a large botanical garden.
Cambridge University Press is a renowned institution in the UK and around the world with more than 50 offices globally. The number of titles published by this organization has reached 45.000 titles including scientific research, professional development, research journals, education and bible publishing.
Why choose to study at Cambridge?
Cambridge University is not only famous for its top quality education in the UK and around the world. This place also possesses outstanding strengths that any student wishes to study and experience.
School achievements and rankings
Cambridge University is regularly ranked among the top universities in the world. In the Times University Guide 2020 rankings, the University of Cambridge is rated as the best in the world.
The university is also ranked 1st in the Guardian University Guide rankings in 2020
Cambridge is rated as the school with the best quality courses in 4 out of 10 training areas.
Cambridge University is also ranked 7th according to the QS World University Rankings 2020.
The university is ranked 3rd in the Times Higher Education World University Rankings 2020
The University of Cambridge achieved outstanding results in the Research Excellence Framework (REF) in 2014, with 87% of its research rated as 'world pioneer' or 'internationally excellent'.
The school is the birthplace of many famous talents such as outstanding mathematicians, scientists and politicians. In which, up to 90 alumni of the school were awarded the Nobel Prize… Britain's Prince Williams also studied Agriculture at Cambridge University. Famous scientists such as John Milton, Isaac Newton, Charles Darwin, Bertrand Russell and most recently physicist Stephen Hawking are also students of this prestigious school.
Cambridge University Facilities
Not only ranked in the Top of the list of the best universities in the world, Cambridge is also known for its ancient architecture and beautiful campus.
Each member institution at the University of Cambridge is an independent institution, with its own history, traditions, and insignia. It is run by the principal, vice-principal, faculty, research and policy team. The faculties and departments of the University of Cambridge are located in many different locations in the city of Cambridge to help students have a rich academic life, open up opportunities to exchange, participate in art activities, and ask questions. sports and social clubs.
The university has the largest library system in the UK, 8 museums of art, culture and science, 1 botanical garden. The school library holds precious books from all over the world, including 200.000 pre- 1800s and more than 6.000 medieval manuscripts.
The living and studying campus of students is also very modern. Maximum service for students' learning and research needs. The school also has a dormitory with fully equipped single rooms.
International Student Services
Cambridge University has a reputation as an extremely friendly university study abroad international birth. Here, international students can find a lot of support from getting used to the new environment to studying directions.
The school has many clubs and student groups set up to support international students. Exchanges and welcome parties are held throughout September for students to get to know each other and university life. Orientation programs are also held at the beginning of the school year to provide information about the school and the opportunity to meet international students.
Currently, Cambridge University has more than 1300 international students from 65 countries studying here.
Education program
Cambridge University is a multi-disciplinary university. Each Cambridge university is a collection of faculties and other units. Each school has an elected governing body – called the school "Council" – composed of representatives from its constituent units. Currently Cambridge has six member schools. Each school is in charge of a different set of training faculties. Specific industries:
Art
Architecture
Asian and Middle Eastern Studies
Economics
Education
Geography
History
Art History
People, Society and Political Science
Archeology
Humanity students study học
Politics and International Relations
Social Anthropology
Sociology
Land economy
Law
Study of language
Management Studies
Modern
Music
Philosophy
Theology and Religion
Science
Chemical engineering
Computer science
Technology
Production Engineering
Math
Medicine
Natural Sciences
Astrophysics
Biochemistry
Biological and biomedical sciences
Chemistry
Genetics
Geosciences
History and Philosophy
Materials science
Neuroscience
Pathology
Pharmacology
Physical Science
Physical
Physiology, Development and Neuroscience
Plant Science
Psychology
Zoology
Psychological and behavioral science
Veterinary medicine
Admissions
Every year, a large number of students from all over the world apply to Cambridge University. Only the best and most outstanding candidates will have the opportunity to be invited to Cambridge for an interview round. This interview has always been one of the topics of interest to students around the world.
To be admitted to a Bachelor's program at Cambridge University, students are required to take A-levels courses with almost the maximum score, and IELTS scores from 7.0 - 7.5 depending on the subject.
Tuition fees and living expenses at the University of Cambridge
Compared to the general level of universities in the UK, tuition fees at Cambridge are quite high. On average, the tuition fee for a Bachelor course is as low as 1 pounds (about 15.000 million VND) and the highest can be up to 462 pounds (about 36,000 billion VND) for medical fields.
Master's tuition fees range from £19.000 to £27.000 for an academic year. In addition to tuition fees, students also have to pay another fee called "College fees" with amounts ranging from £1-5.400. The cost of living at Cambridge University is around £7.720/year.
Tuition fees of the school may vary depending on the subject, study program and nationality of the student, etc.
Cambridge University Scholarship
Cambridge University has scholarship programs to support and encourage students including:
Gates Cambridge Scholarship
This scholarship was established in October 10 to create opportunities for foreign students to study Cambridge postgraduate (master's or doctoral level). The scholarship covers full tuition fees and living expenses, round-trip airfare and other support during the study period. Students are also allowed to use the stipend for research-related activities.
Gates Cambridge Scholarships are awarded to international students studying at the University of Cambridge in any discipline. The number of scholarships per year is 100. awarded to students who meet criteria such as:
Intellect must be exceptionally good.
Students achieve exceptionally well throughout their high school and college years.
Students must prove they have the qualities of a future leader who can contribute to changing the face of the world, making the world a better place.
Students must have a desire to contribute to society with specific research works or achievements.
250 Vice-Chancellor's Awards & Cambridge International Scholarships
This scholarship is awarded by the Cambridge Commonwealth, European and International Trust – this is a charity established at the University of Cambridge to support international students who wish to study at the university. The scholarships are awarded to outstanding students from all over the world, regardless of economic and social background.
The number of scholarships awarded each year is 250. In particular, with this scholarship, students can freely choose to study any major that creates Cambridge. The scholarship covers tuition fees and living expenses for students while studying at the school.
Conditions for receiving the scholarship are as follows:
Excellent education.
Applicants should have scientific research potential.
Introducing letter.
Good level of English, IELTS 7.0 or higher.
In addition, the applicant's financial situation does not affect the selection of scholarship awardees.
What should I study at the University of Cambridge?
Architecture
The UK and the US are always rated as the two best architecture training countries in the world. However, many people often choose the UK as the place to pursue this study. Because if the bachelor's degree program in architecture in the US lasts up to 4-5 years, in the UK, students only take about 3 years to complete their undergraduate program.
Architecture in the UK focuses on practicality. Students are taught directly in design workshops or studios. Lessons are led by the instructor, but it is the students who present the product and receive comments from the instructor and classmates.
Cambridge University is one of the most famous architecture schools in the UK. The school always encourages students to approach reality during their studies or through internships.
Medical
It can be said that Medicine is the strength of England in general and Cambridge University in particular. The school has always been at the forefront of medical training in the world. Therefore, it is not too difficult to understand that Cambridge University has long become the cradle of many talents in medical research, scientists and even the owner of prestigious Nobel prizes.
Studying Medicine in the UK gives international students the opportunity to experience a solid knowledge base with state-of-the-art equipment and learning tools. The UK also owns many medical centers that are considered to have the most modern equipment in the world.
Art & Design
The 21st century is the age of communication. Therefore, art and design are having a significant influence in people's lives. Types of effects, infographics appear dense and constantly increasing, leading to a huge demand for professionals in the art and creative industry.
The art and design industry is also predicted to be a "thirsty" industry in the coming time, especially for high-quality labor resources due to the breakthrough of technology and communication.
Cambridge University offers a variety of study programs, from fine art, fashion design, film production, graphic design, interior design, exterior design, architecture, photography, etc. Theoretical lessons, students also participate in field trips. At the same time, students will be able to practice and express their creativity through a series of interwoven projects throughout the course.
Above is some information about Cambridge University. The University of Cambridge is the UK's leading prestigious university with a long history and admirable teaching record. Studying at Cambridge University is really the dream of many generations of students from all over the world.
Related fields